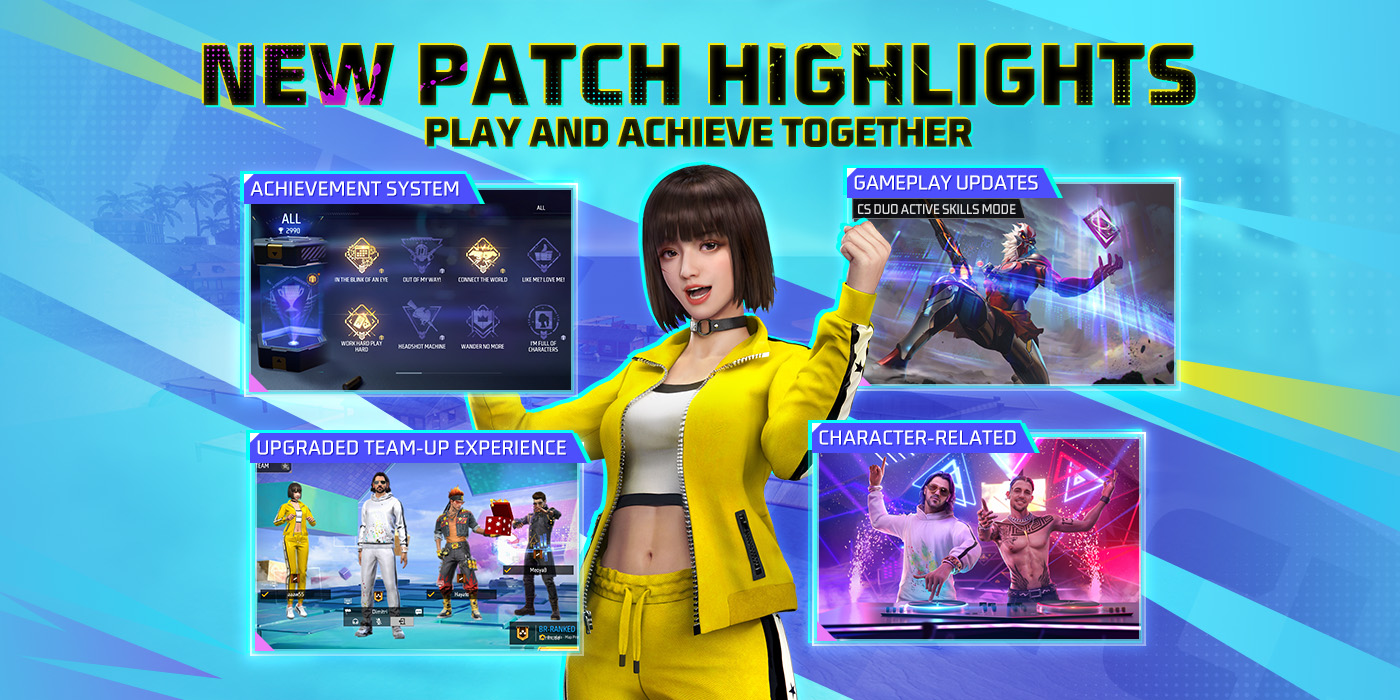 New System: Achievement
Achievement System
Every step you've made in Free Fire is worth celebrating.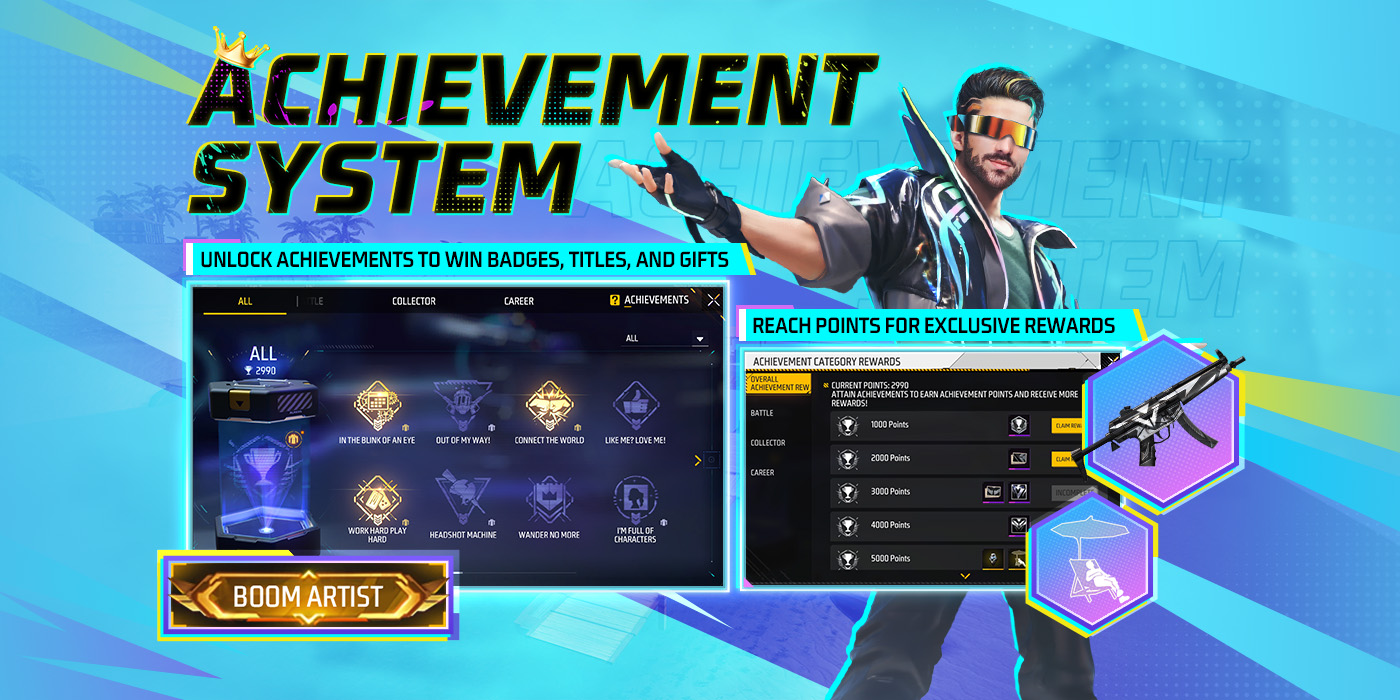 "Hey, on the occasion of Free Fire's sixth birthday, we want to thank you for being with us all this time. Do you know? You've got so many memories and experiences that are worth telling in Free Fire! And we have recorded all of them in the Achievement system. Check it out now and see what kind of great survivor you have become!"

Entrance: Tap on the menu in the bottom left corner of the lobby and tap on "Achievements" to enter.

Categories: To acknowledge your work in all areas, achievements are divided into 3 categories – Battle, Collector, and Career.

Stages: Each regular achievement has 3 stages. Satisfying the condition of each stage will unlock the corresponding stage badge and receive corresponding achievement points (and, if applicable, the corresponding reward).

Easter Egg: Some achievements will not be displayed in your achievement list until they are obtained. Unlock these surprises as you battle!

Achievement Points: By unlocking achievements, you can accumulate achievement points and earn corresponding rewards based on your overall points.

Data Validity Time: Achievements in the Collector and Career categories will reflect your account history. However, due to fairness reasons, Battle achievements will start counting from the moment the system goes live. As you look back to the magnificent achievements you have accomplished, strive for the even more lofty legends that lie ahead!
Achievement Titles
Tired of celebrating by yourself? Let your achievements shine for all to see!
"Feeling unsatisfied admiring your achievements on your own? Equip titles and share your remarkable accomplishments with your friends!"
How to Obtain: Certain achievements provide titles as their stage rewards.

Rarity: Currently, there are 3 grades of titles – rare, epic and mythic. The rarity increases in that order, and they come with different colors and designs.

Equip: After obtaining a title, you can select or switch equipped titles from the "Title" section on your profile page. There, you can also view titles yet to be unlocked.

Display: After equipping a title, it will be displayed on your profile page. Additionally, it will appear above your character for a period of time after joining a team and can also be selected and displayed from the wheel menu that appears when tapping your character in the lobby.
Clash Squad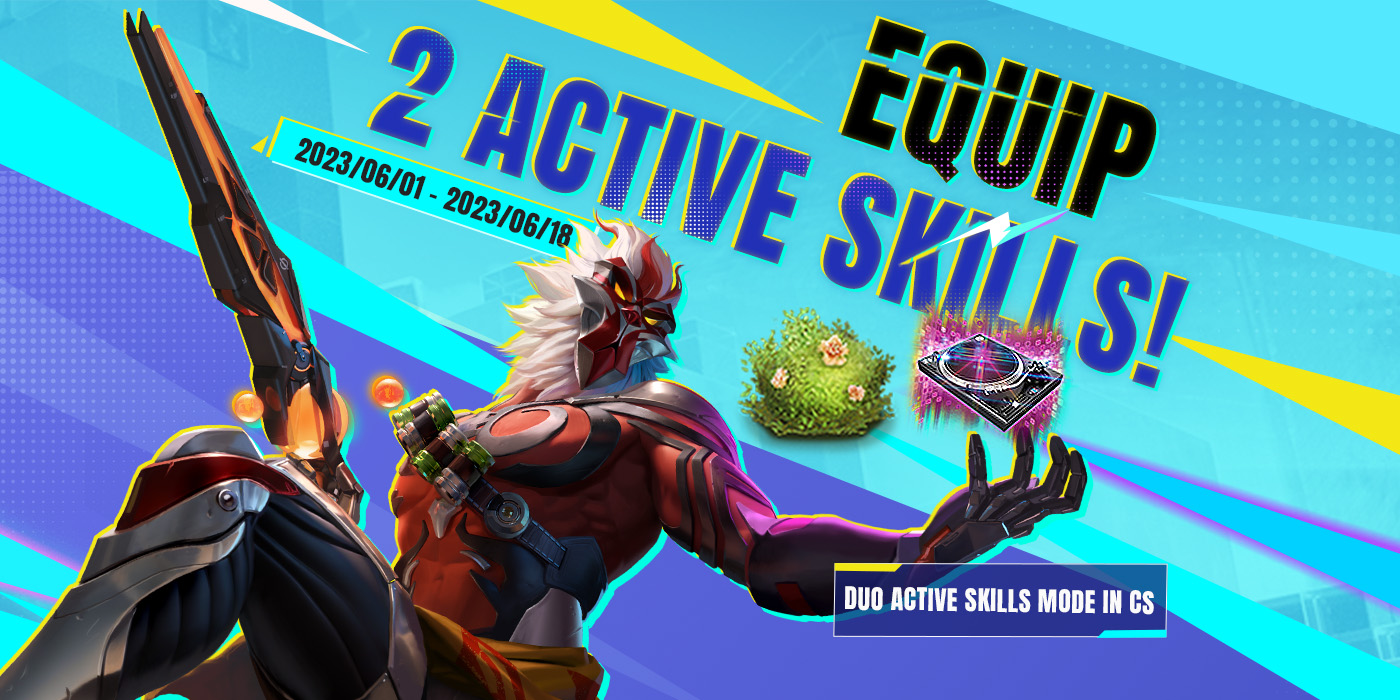 Clash Squad: Duo Active Skills Mode
Experience skill combos in Clash Squad!
"Try out the new Duo Active Skills mode in Clash Squad to experience powerful combos such as turning into a ninja bush (Wukong & Tatsuya) and shielding and counter-eliminating enemies while rescuing knocked down teammates (Chrono & Dimitri)! Improve your marksmanship while exploring diverse, powerful skill combos! Once you get a hang of it, you can also choose to climb the rank with Dual Active Skills mode in CS-Ranked!"
Rules:
The preset active and passive skills that you selected in the lobby will be kept, and the active skill in the preset will be chosen by default, so you will only need to choose 1 more active skill. But of course, you can also choose to change the pre-chosen active skill.

You can choose from all characters' active skills, even if you haven't yet unlocked some of them.

Other rules are exactly the same as Clash Squad mode's.
During the live period of this mode, you can choose to enable Duo Active Skills mode for CS-Ranked matches. The specific rules are as follows:
You can choose to enable this mode in ranked matches if you rank Gold I or above.

When your rank is above Gold I, this mode will be enabled by default.

Your matchmaking will prioritize other players who also enabled this mode.

There will be no star deductions for the first 2 ranked match defeats when matched under this mode.



Clash Squad Store Adjustments
Price Adjustments:
MP40: 2000 → 1900

Groza: 1900 → 1800

P90: 1700 → 1600
New Weapon: G36, 1200 CS Cash

Battle Royale
Gloo Maker
I, born with no luck, no longer need to worry about having no Gloo Walls!
"Have you ever been in the situation where during a battle, your enemy successfully defended your attack with a Gloo Wall and counter-eliminated you because you were unlucky and had no Gloo Wall at all? Now, you can have Gloo Walls right after parachuting and can obtain them periodically and after eliminating enemies. Use Gloo Chips to upgrade your Gloo Maker and enjoy the assurance that comes from having Gloo Walls in your hands!"

Every player will have a Gloo Maker and will start with 1 Gloo Wall (including after revival).

You can check your Gloo Maker's level and max. capacity from the Device tab of your backpack. The level will also be shown next to your health bar.

The Gloo Maker will not be dropped after the player is eliminated, and the level will remain the same after revival.

Obtaining Gloo Walls:

Gloo Walls can no longer be picked up or purchased.

Receive 1 Gloo Wall periodically through the Gloo Maker.

The first player getting close to an enemy's loot box will receive Gloo Walls, and the eliminator will also receive Gloo Walls. If the first player who gets close to the loot box is also the eliminator, said player will receive all the Gloo Walls.

The Gloo Maker has a total of 5 levels:

Level 1: Max. capacity of 4 Gloo Walls. Receive 1 Gloo Wall every 100s. Requires 300 Gloo Maker EXP to level up.

Gloo Walls received from an enemy's loot box: 1

Gloo Walls received by the eliminator: 1

Level 2: Max. capacity of 5 Gloo Walls. Receive 1 Gloo Wall every 85s. Requires 400 Gloo Maker EXP to level up.

Gloo Walls received from an enemy's loot box: 1

Gloo Walls received by the eliminator: 1

Level 3: Max. capacity of 6 Gloo Walls. Receive 1 Gloo Wall every 70s. Requires 400 Gloo Maker EXP to level up.

Gloo Walls received from an enemy's loot box: 1

Gloo Walls received by the eliminator: 1

Level 4: Max. capacity of 8 Gloo Walls. Receive 1 Gloo Wall every 65s. Requires 400 Gloo Maker EXP to level up.

Gloo Walls received from an enemy's loot box: 2

Gloo Walls received by the eliminator: 1

Level 5: Max. capacity of 10 Gloo Walls. Receive 1 Gloo Wall every 50s.

Gloo Walls received from an enemy's loot box: 2

Gloo Walls received by the eliminator: 2

Obtaining Gloo Maker EXP:

Gloo Chip: Increase 1 level (400EXP).

Deal damage: Get 1 Gloo Maker EXP for every 2 DMG.

Time: Get 1 Gloo Maker EXP every second.

Pet/Loadout Adjustments:

Mr. Waggor: In Battle Royale, gives the owner 200 Gloo Maker EXP after 200s into a match.

Leg Pockets:Get a Lv. 2 Gloo Maker, a Lv. 3 Backpack, and 200 additional backpack capacity at the start of the match. Your Gloo Maker will provide you 2 extra Gloo Walls at the start of the match and every time you are revived.

Secret Clue: A chest will be marked on the map. Head there to obtain a Gloo Chip, a Launch Pad, 600 FF Coins, and other items. Once you open the chest, a new one will be marked.

Obtaining Gloo Chips:

Vending Machine: 400 FF Coins (limit: 1)

Airdrop, Arsenal, Blue Zone, War Chest
Super Revival Optimization
Even better loot after revival!
"Teammates revived by the Super Revival card will now have some healing supplies in hand!"
On top of a UMP, a Lv. 2 Helmet, and a Lv. 2 Vest, the teammate revived with the Super Revival card will also get a Med Kit and a Heal Pistol.
In-Match Quest - Color Cube Charge Up
Spinnnnnnnnn!
"A mysterious cube has arrived in the world of Free Fire! In your moments of helplessness and panic, it will come to your aid and help you gain advantages in battles!"
During the period of the "

6th Anniversary Hype Up"

, the time-limited Color Cube Quest will appear. This will be the only in-match quest in Battle Royale matches during this period.

The in-match quest will appear randomly in some matches, not all matches.

Quest Condition: In Battle Royale, interact with Color Prisms for a certain amount of times to unlock the event.

Event: A Color Spirit will appear beside each player and will release skills when needed to help the player out!

The Color Spirit will also need a moment of break. After releasing a skill, it will need to rest for a while before it can start working again.

The Color Spirit will heighten the following characters' skills, which may appear similar to their regular versions but will have slight differences:

Alok: Creates an aura that restores a large amount of HP for a certain amount of time.

Homer: Releases a drone towards the nearest enemy and creates a small pulse explosion that reduces movement speed.

Clu: Continuously scans for nearby enemies.

Xayne: Enters an extreme state and gets a certain amount of temporary HP for a certain amount of time.

Depending on the match, the skills that the Color Spirit can release will also vary!
Bonus Box
Enjoy strolling in Battle Royale? Check in with the Bonus Boxes!
"Interactable Bonus Boxes will be placed throughout Battle Royale maps. Find them, interact with them, and get surprising loot!"
During the period of the "

6th Anniversary Hype Up",

interact with the Bonus Box and get random loot.
Color Cube Gameplay
You get to decide the color of the Color Cube!
"A mysterious island has appeared over the battlefield, offering you an additional revival opportunity! Grab the paint and dye and color the island! The faster you paint, the sooner the mysterious island will send you back into battle."

After the official start of the 6th Anniversary event, a floating island called the Color Cube will appear in both Battle Royale Ranked and Casual modes. When a player is eliminated during the active period of the Color Cube, they will be transported to the island. Players can dye the island with their color and accumulate progress by moving around, eliminating other players on the island, and breaking the mini cubes within a limited time. Once the progress bar is full, players will earn a revival opportunity and can parachute back into the match.
Other Adjustments
For a more balanced Battle Royale battlefield.
"Due to the numerous adjustments made in the new version of Battle Royale, in order to maintain battlefield balance and provide more engaging gameplay, we have also introduced some exciting changes to the fighting pit."
Item Adjustment:

Gloo Melter: Increased damage against Gloo Walls to better counter the Gloo Maker.

Damage per second against Gloo Walls increased from 150 to 230.

Gloo Walls inside the range will no longer take more damage when attacked.

Throwing distance increased by 30%.

Damage range towards other players decreased from 10-25 to 5.

In the Med Kit wheel, automatically switch to Super Med when HP reaches 75 instead of 50.

Loot Adjustments:

Increased the number of mushrooms on the map. Yellow mushrooms will no longer appear.

Slightly reduced the drop rate of Lv. 1 upgradable weapons, with their distribution more scattered across the map.

Removed the drop of Heal Snipers and Heal Lasers from the map.

Reduced the number of FF Coins dropped in the blue zone.

Removed the drop of Gloo Walls from the map.

Removed the Bipod attachment.

Reduced the drop rate of the M24 by 25%.

Reduced the drop rate of the RGS-50 by 16%.

The drop of Arsenal Keys has become more random and scattered across the map.

Removed Gloo Walls from the Arsenal and replaced them with 1 Gloo Chip.

War Chest Adjustments:

FF Coins needed to open the box decreased from 300 to 200.

Slightly increased the probability of Horizaline drops from Lv. 2 and Lv. 3 War Chests.

War Chests now have a chance to contain Gloo Chips.

Vending Machine Adjustments: More free items for you! Come and check out the new version of the vending machine.

The availability of Inhaler x2 has been adjusted from a limit of 1 time for free to unlimited for 100 FF Coins.

The availability of Med Kit x2 has been adjusted to 1 Super Med.

The price of an Arsenal Key has increased from 600 to 800 FF Coins.

Gloo Chip added, limited to 1 purchase for 400 FF Coins.

Free items added: Heal Sniper (limit: 1), Heal Laser (limit: 1), Katana (limit: 1), Lv. 2 Magazine (limit: 1), Gloo Melter (limit: 1).

In-Match Quest Exclusive Vending Machine Price Adjustments:

Increased the price of airdrop guns from 400 to 600 FF Coins, with a limit of 2 for the whole match.

Increased the price of the M1887 from 400 to 600 FF Coins, with a limit of 2 for the whole match.

Safe Zone Shrink Speed Adjustment: Provide players with more battle time, allowing them to more safely run into the Safe Zone after engaging.

Reduced the waiting time for the second Safe Zone to start shrinking: 60s → 40s.

Slowed down the shrinking speed of the second Safe Zone: 140s → 170s.

Reduced the waiting time for the third Safe Zone to start shrinking: 50s → 40s.
Weapon and Balance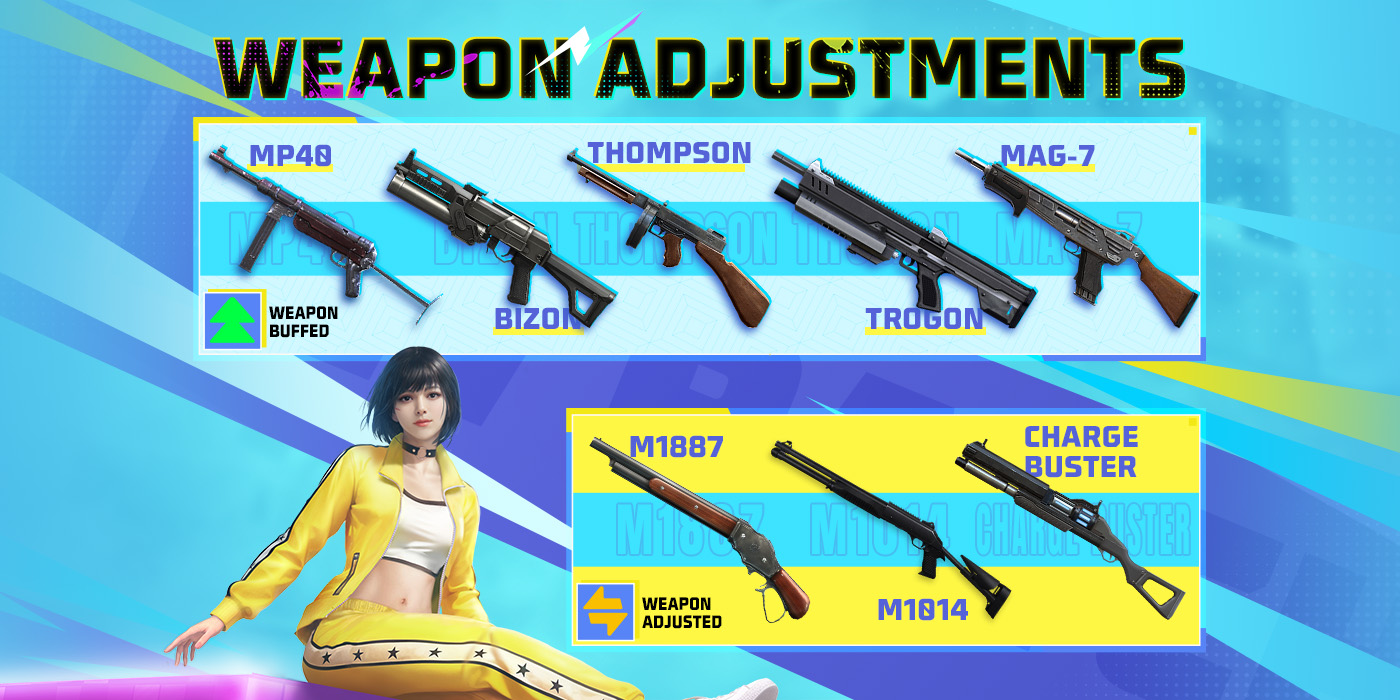 Weapon Balance Adjustments
Significant changes in close-range combat!
"Our weapon balancing this patch focuses on balancing the effective range of sub-machine guns and shotguns. Currently, shotguns are stronger than sub-machine guns at both close-range and medium-close range, which diminishes the advantage of sub-machine guns. Our primary goal in this adjustment is to give each weapon type its own advantage in different distances!"
Rifle Adjustments:
SMG Adjustments:
Thompson: Damage +4%

MP40: Damage +8%

Bizon: Damage +10%, optimization on the ease of use
Shotgun Adjustments:
M1887: Range -15%, reload speed + 10%

M1014-I: Range -12%, accuracy +20%

M1014-II: Range -12%, accuracy +20%

M1014-III: Range -12%, accuracy +20%

Charge Buster: Range -20%, magazine capacity +1

Trogon: Optimization on the ease of use

MAG-7: Optimization on the ease of use
Pistol Adjustments:
M1917: Damage -13%, rate of fire +6%
Others:
Marksman Grip: On top of the original base, rate of fire -3%

Grenade: Explosion range -10%
Characters & Pets
New Character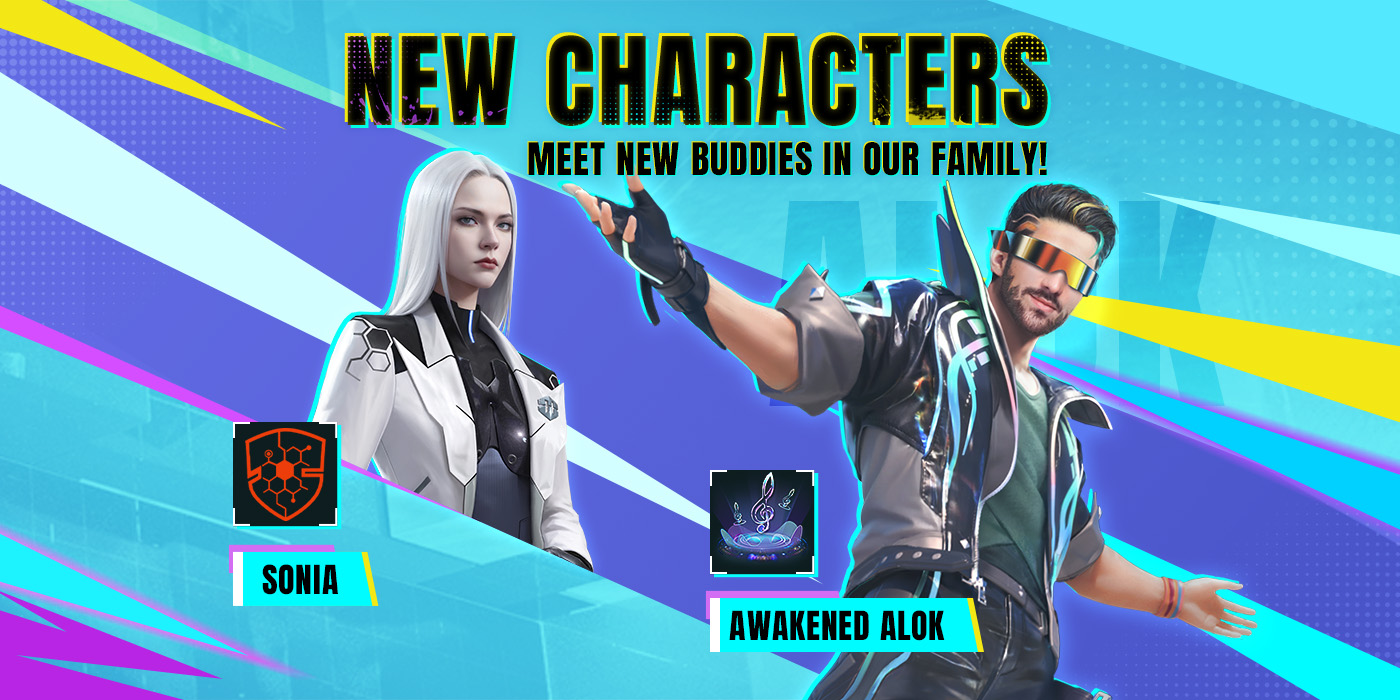 Sonia
Nano Scientist
"Sonia's incredibly high IQ comes at the cost of her ability to empathize with others. In her view, both the human race and the world it inhabits are deeply flawed and the only cure is technology."
Nano Lifeshield:
After taking fatal damage, enter an invulnerable and immobile state for 0.5s. Then, gain a 150 HP shield that lasts for 3s. If the skill user knocks down an enemy while the shield is active, restore the same HP amount as the shield's; if not, the skill user will be eliminated. Cooldown: 180s.
Awakened Character

Alok
"Alok provides players with mobility and healing abilities in the fighting pit, enabling them to execute brilliant plays. As the representative character for Free Fire's 6th anniversary, Alok will gain a new ability in this patch. In addition to his personal enhancements, starting this patch, it is easier for him to provide buffs for teammates, leading the team towards Booyah!"

Original Skill:
Drop the Beat:
Creates a 5m aura that increases movement speed by 15% and restores 3 HP per second for 10s. Effects do not stack. Cooldown: 45s.
Awakening Skill:
Party Remix:
While the aura is active, music notes that last for 5s will be dropped 2m behind the skill user every 2s. Teammates who pick up the music note will receive 3 HP per second for 10s.
Character Reworks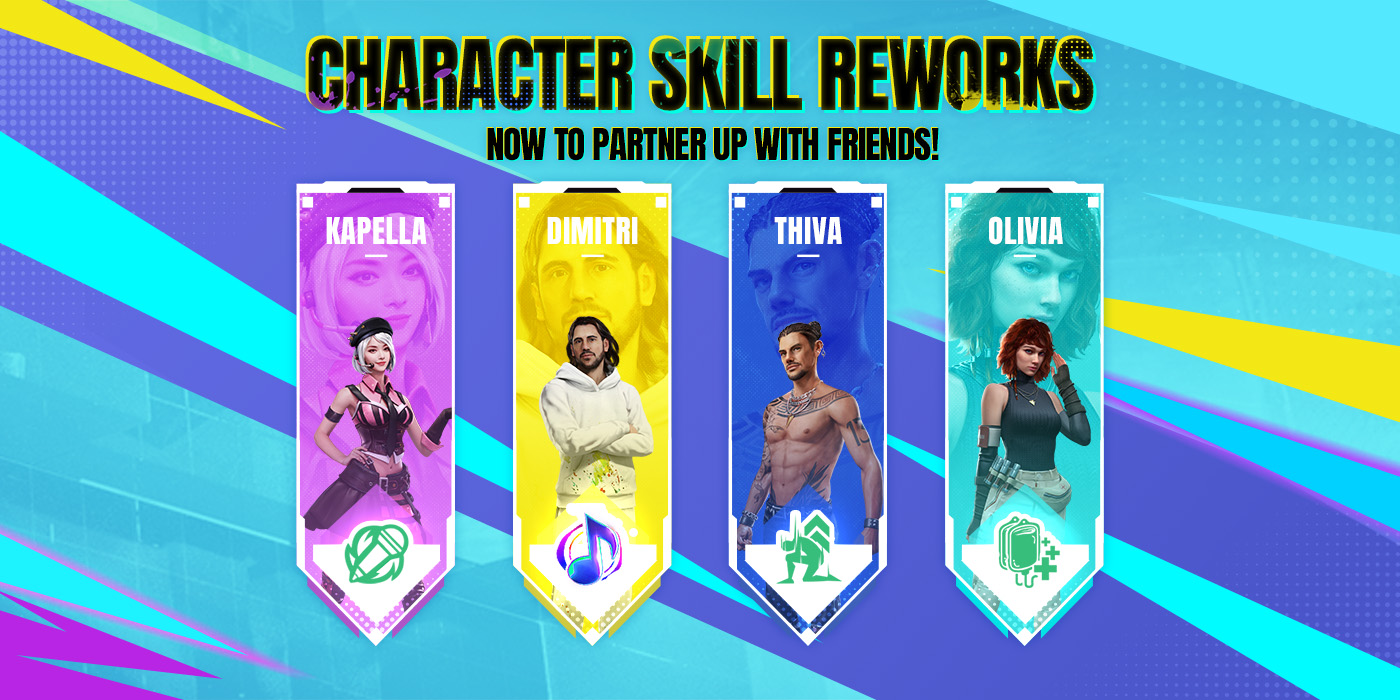 Dimitri
Help up will be automatically triggered, when needed, within the zone.

"Have you ever met teammates who does not self-recover even when they are within Dimitri's skill zone? In this patch, we have optimized the self-recover experience for Dimitri, where knocked down teammates within the skill zone will now automatically initiate self-recover. We have also enhanced Dimitri's HP recovery ability."
Healing Heartbeat:
Creates a 3.5m-radius healing zone. Inside, user and allies recover 10HP/s. Help up will be automatically triggered when needed. Zone lasts for 12s. The effects of helping up teammates can be enhanced by other skills. Cooldown: 60s.

Thiva
Quickly rescue your teammate and get ready to fight again.
"Have you experienced a situation where you are rescuing teammates behind a Gloo Wall, only to be overwhelmed and wiped out by enemies coming in? Thiva will solve your problem! We have significantly increased Thiva's help up speed, but with a cooldown added. (Thiva will recover the teammate's health upon a successful help up at any time.)"

Vital Vibes:
The speed of helping up teammates is increased by 70%. Cooldown: 60s. The helped up teammate recovers 100 HP in 3s.
Kapella
Be the strongest support for your knocked down teammates.
"Kapella will not accept watching knocked down teammates being killed by enemies. Her protection for downed teammates has been significantly enhanced. When helping up teammates, said teammates will receive a shield and a boost in movement speed."
Healing Song:
While helping up a teammate, gives said teammate a 80 HP shield and 10% movement speed boost. Boost effects reduce 4s after successful help-up. Reduces bleeding speed of knocked down teammates by 35%. Effects do not stack.
Olivia
The most powerful healer.
"After passing on the task of rescuing to Thiva, Olivia now has a brand-new role: the Healing Master. Olivia can share her healing effects with nearby allies within a range of 10 meters, fulfilling her duty as a nurse."

Healing Touch:
Spread 80% of your single-target healing effects to teammates within 10m.
Character Balance Adjustments
Active Skills:
Tatsuya
"Tatsuya has always had an interesting skill, but the speed boost is not sufficient enough for him to stand out within the various functional active skills currently available. Therefore, we have allowed Tatsuya to run even faster in the world of Free Fire."

Rebel Rush:
Dashes forward at a rapid speed for 0.3s. This skill can be accumulated for up to 2→ 3 uses, with a 5 → 1-second cooldown between each use. Dash replenish time: 60 → 45s.

Clu
"Players currently have no way of knowing if they are being located by Clu and are unaware if their location is exposed. In this patch, players will receive a notification when they are being scanned. Some players might wonder if this is an indirect nerf on Clu; therefore, we also adjusted Clu's cooldown."
Tracing Steps:
Locate positions of enemies within 65m who are not in prone or squat position. Lasts for 10s. Enemy positions are shared with teammates. Cooldown: 50 → 45s.
Homer
"Homer's role is individual tracking. In this patch, the explosion range of his skill will be reduced. On the other hand, Homer's skill can now also trigger Moco's tagging skill, allowing teammates to better track the enemy's position."
Senses Shockwave:
Releases a drone towards the nearest enemy within a 100m frontal distance, creating a 5 → 3 m-diameter pulse explosion which reduces movement speed by 60% and firing speed by 35%. Lasts for 5s. Deals 25 DMG. Cooldown: 90s.
Skyler
Riptide Rhythm:
Unleashes a sonic wave forward for 100m. The wave explodes and deals damage to Gloo Walls within a 3.5 → 4m radius for 4 → 5s. Cooldown: 50 → 45s.

K
Master of All:
Max EP increases by 20 → 50. Jiu-jitsu Mode: Allies within 6m get 600% increase in EP conversion rate. Psychology Mode: Recover 3 EP every 2s, up to 250 EP. Mode switch Cooldown: 3 → 6s.

Iris
Wall Brawl:
For 15s, successfully firing at a Gloo Wall will mark enemies within 7m of it and penetrate the Gloo Wall to cause damage to marked enemies (damage inflicted will be lower than usual). Effective on 5 → 3 Gloo Walls max. Cooldown: 60s.


Passive Skills:
Hayato
"Hayato, a character with one of the most popular skills, provides players with armor penetration that can deliver a lethal blow to enemies in close combat. The initial design intended to give players a chance to counter-eliminate enemies when they have low health. However, Hayato's armor penetration currently allows players to instantly eliminate enemies even when their health is not low. In this patch, players will need to sacrifice more health to achieve the one-shot elimination effect."
Bushido:
With every 10 → 13% decrease in maximum HP, armor penetration increases by 5%.

Andrew
Armor Specialist:
Armor durability loss decreases by 20 → 25%.
Andrew "the Fierce"
Wolf Pack:
Awakening: Armor damage reduction boosted by 11 → 20%. Additional 15 → 10% damage reduction from every teammate carrying this skill.
Rafael
Dead Silent:
When using Snipers and Marksman Rifles, firing sound is silenced and enemies knocked down by the user bleed 90 → 85% faster.
Alvaro "Rageblast"
Split Blitz:
Awakening: 1s before detonating, grenade produces 3 extra grenades, which can cause 30 → 20% damage of their original.

Other Skill Adjustments:
Homer: Senses Shockwave can now trigger Hacker's Eye.

Clu: When located by Tracing Steps, a notification will be shown on your mini map and the middle of your screen.

Falco: If any of your teammates equipped Skyline Spree, there will be a notification on the eject button.

Mr. Waggor: In Battle Royale, gives the player 200 Gloo Maker EXP after 200s into a match.
Character Special Outfit By Default
Get to know the characters in your character list again!
"Just like how we express ourselves with our unique fashion style and way of doing things in real life, characters in Free Fire also have their own clothing preferences. From now on, you get to understand their personalities and styles better through the exclusive outfits they wear by default!"
Characters, both owned and ones to be obtained in the future, will all come with special outfits as their default attire:
When not wearing any other outfits, their appearance will be in the form of their special outfit.

The acquired special outfits will still remain in your vault as proof, but wearing or removing them will not make any visual differences in appearance on the characters.

Please note that some special outfits may require downloading in order to be displayed in the game properly.

Due to the unique design of Caroline's clothes, additional time is required for her to wear her default dress. We will update her appearance in the next patch. We apologize for keeping her in the basic outfit for now.



Map
Bermuda Adjustments
Rim Nam Village Rework
New layout, new appearance. Come and visit Rim Nam Village!
"Safe paths, adequate covers, and an incredibly cute restaurant sign. Are you sure you don't want to come and check out the newly renovated Rim Nam Village? This area will also be added to Clash Squad mode, so come and get familiarized!"
We have made some adjustments to the layout of the Rim Nam Village, providing it with more covers and clearer routes.

Additionally, Rim Nam Village will be added to Clash Squad (both casual and ranked modes).



Clash Squad Map Balancing Adjustments
Nurek Dam
No more sneaky enemies on top of the containers at the opposite end!
"Players who spawn on the west side can easily and quickly reach the top of the slanted container, gaining control over half of the map. To address this situation, we have made adjustments to the area."
A container has been added on top of each of the slanted containers next to the spawn points on both sides to prevent players from jumping onto the slanted containers.
Mars Electric
New covers, new allies.
"We've noticed that the gaming experience is not balanced on this map. Players spawned on the west side can head northward to reach the rooftops and occupy a highly advantageous firing position. On the other hand, players on the south side don't get enough covers for them to engage and hide. To address these situations, we have made adjustments to the map."
Some container positions have been adjusted to increase the frequency of encounters in their respective areas.

The spawn points of both sides have been adjusted, resulting in a more balanced gameplay between the two teams.

The tires and a house on the north side have been removed. Players can no longer access the rooftop of the northern house.

The tires on the east side have been removed. Players can no longer jump onto the top of the buildings there.
Cape Town
Come on, let's solve this on the ground.
"In Clash Squad, we notice that players on the west side have a way to reach the second floor and roof, gaining the upper hand by occupying a highly advantageous firing position, while the other side does not. To address these situations, we have made adjustments to the area."
The layout and orientations of the houses in the area have been adjusted. Players can no longer jump onto the rooftops of any houses.

A building in the map has been replaced, changing from a two-story house to a single-story house.
Gameplay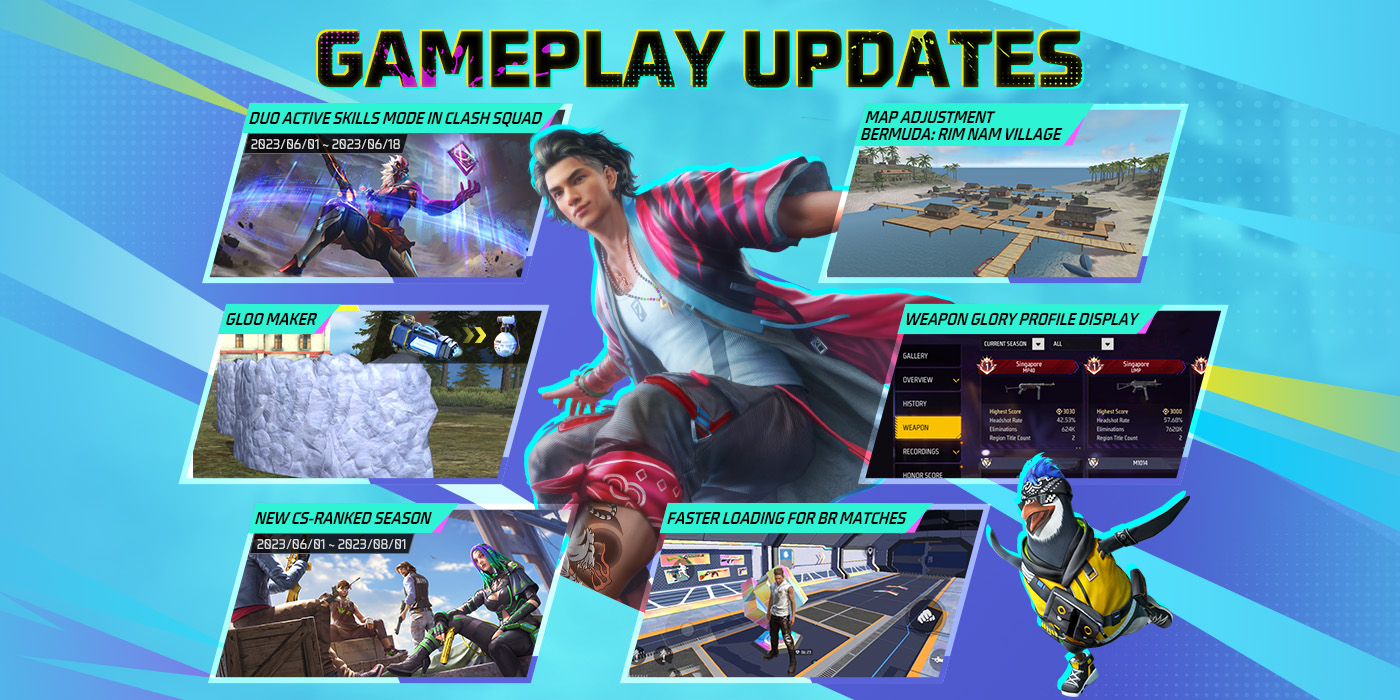 Backpack Management and Looting Optimization
Operations have been simplified for a more convenient gaming experience.
"We have received a lot of feedback from players regarding the messy display of backpack items, making it difficult to drop certain items like Med Kits and FF Coins to teammates. Additionally, when going through the enemy's loot box, too much ammo is displayed in front, making it hard to notice the available weapons. Moreover, some advanced weapon attachments cannot be automatically picked up. All these factors increase the players' operational costs and time, which are crucial in intense battles. To address these concerns, we have implemented a series of optimizations to enhance the players' combat experience, making it more seamless and convenient!"
Backpack Management:
Every time you open your backpack, items of the same type, such as healing supplies, ammo, and throwables, will be automatically grouped together.

The original organize button in the top right corner of the backpack interface has been replaced with a stack button, which merges items of the same type, such as healing supplies, ammo, and throwables, together for display.

The drop method in the stacking state has been replaced with a new sliding bar on the right, allowing you to smoothly choose the quantity you want to discard.

A new "Drop Useless" button has been added to the backpack interface, allowing you to easily discard unnecessary items in your backpack with just one tap.



Looting:
Items of the same type, such as healing supplies, ammo, and throwables, will be stacked in the looting list, but the quantity of a single pick-up remains as a set.

Advanced weapon attachments now support automatic looting of:

Silencer

SMG Muzzle

AR Magazine

Marksman Grip

Shotgun Stock

Sniper Stock

When you encounter items that exceed the remaining capacity of your backpack, you can now choose to automatically or manually pick them up based on the available space in your backpack.



Loadout Adjustments
More balanced Loadout for a better game experience.
"On top of basic adjustments, certain Loadouts underwent corresponding modifications due to the changes made to the Gloo Walls in the new patch."

Bonfire:
In Clash Squad and Battle Royale, the effect is changed from 10HP/s and 10EP/s to 5HP/s and 20EP/s for a total of 10s, and the given quantity is now 2.



CS:
Airdrop Aid: The whole team gets 300 extra CS Cash after the Loadout user loots the airdrop. → The Loadout user gets 300 extra CS Cash after any teammate loots the airdrop.

Supply Crate: Adjustments on the extra items for each round:

Round 1: Katana

Round 2: Inhaler x1

Round 3: Flash Freeze x1

Round 4: Gloo Wall x1

Round 5: Upgrade Chip x1

Round 6: Bonfire x1

Round 7: Super Med x1
BR:
Leg Pockets: Get a Lv. 2 Gloo Maker, a Lv. 3 Backpack, and 200 additional backpack capacity at the start of the match. Your Gloo Maker will provide you 2 extra Gloo Walls at the start of the match and every time you are revived.

Bounty Token: Your first elimination will earn you 400 FF Coins, a random attachment, and a Lv. 2 upgradable weapon.

Supply Crate: When you are revived, get 300 FF Coins, a Bizon, and 60 SMG Ammo.

Secret Clue: A chest will be marked on the map. Head there to obtain a Gloo Chip, a Launch Pad, 600 FF Coins, and other items. Once you open the chest, a new one will be marked.
Auto-Aim on Knocked-Down Enemies Adjustments
Smoother firing operation when facing multiple enemies.
"In the previous update, we made adjustments to the auto-aim on knocked down enemies based on player feedback, which helped improve a lot of players' overall gaming experience. However, we also received feedback from players that they still experienced instances where their auto-aim is pulled towards the knocked down enemies more even when there are standing enemies next to them. In response to this, we have continued to optimize auto-aim to provide players with an even better combat experience."
Easier to aim at a standing enemy when both a standing enemy and a knocked-down enemy are near you.
Shallow Water Area Optimization
Shallow water area will no longer be the place you don't want to go.
"Have you ever experienced being slowed down by shallow water and easily eliminated by an enemy? Or have you experienced a situation where you were instantly eliminated after being knocked down? Don't worry! We've optimized the experience. Have fun playing with water!"
Players won't be slowed down in shallow water areas.

Fixed the issue that players will be eliminated instantly after being knocked down.
Danger Zone Elimination Rule Optimization
Danger zone will never steal my elimination.
"How can it be counted as a danger zone elimination when it was clearly mine? Rest assured, Survivors! This issue won't happen again. From now on, any heads you've knocked down will be rightfully credited to you."
If a player is eliminated by the Danger Zone within 8s of taking damage from other players, the elimination will be credited to the last player dealing damage.
System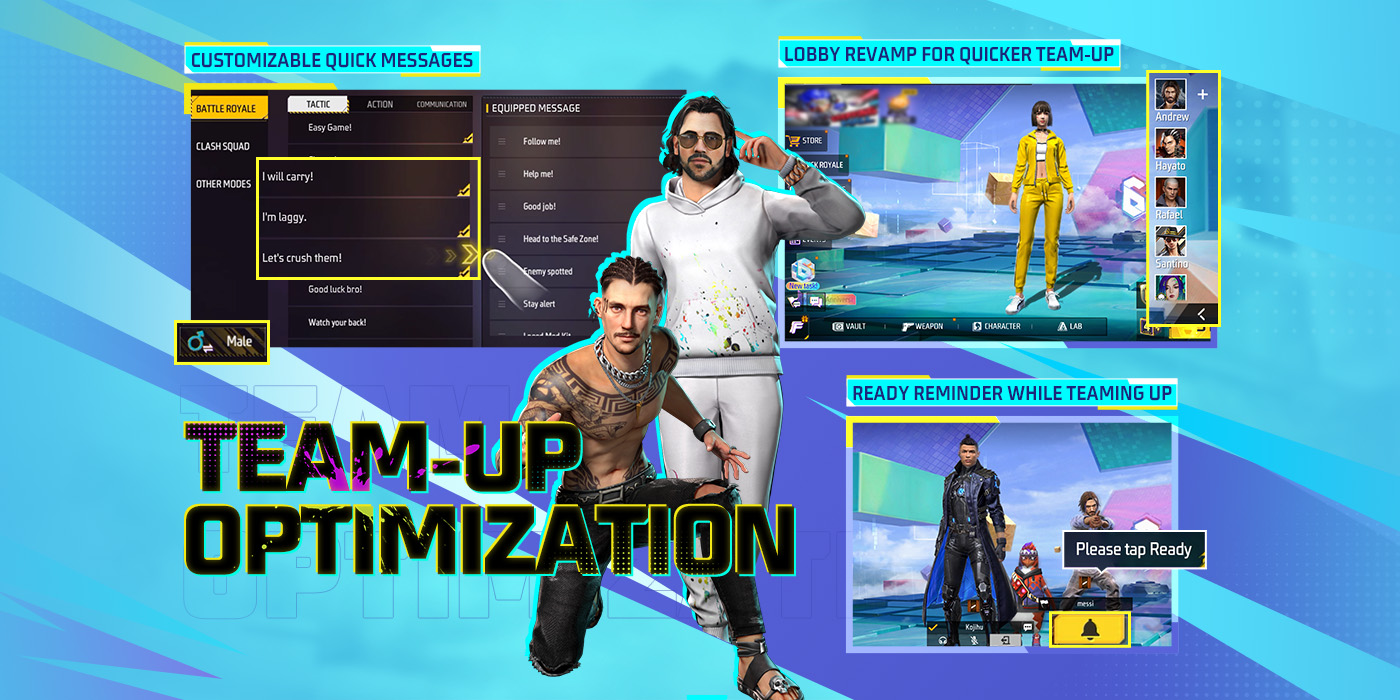 Lobby Redesign
You've got to check it out, the revamped lobby is awesome!
"We have completely upgraded the lobby this time to optimize the process of inviting friends and reorganized entrances by categories and functions! Explore and experience it for yourself!"
Friends List is now permanently available in the lobby, allowing players to directly view their friends' status and send invitations, request to join teams, and book friends.

The previously scattered commercial ads and promotions have all been consolidated and are now displayed on the Diamond Events page.

The positions of the entrances of the Store, Luck Royale, Booyah Pass, Missions, Events, Vault, Weapon, Character, and other features have been adjusted.

Leaderboard, Achievements, Esports Center, and other entrances have been moved into the new menu button located at the bottom left of the lobby.

A mode recommendation banner is added for new modes, which you can tap on to jump to the desired mode.

When in a team, the Teamcode and Skills buttons in the top left corner of the lobby have been merged into a single Team button.
Patch Express
You have received a Patch Express!
"Do you feel overwhelmed by the extensive information and find it difficult to read through the patch notes? Or perhaps you find the content too hardcore to understand? Do you struggle to quickly grasp what updates have been made in the current patch? Or do you feel frustrated with the disappearance of past patch information over time? Now, right in the game, there will be a dedicated Patch Express where we present the key highlights directly to you."
The entrance is permanently available in Events.

Key highlights of the current patch are shown in Patch Express. Tap the buttons to see more details or experience the content directly.

Previous Patch Notes are also available in Patch Express.
Custom Quick Messages
Check out the useful and fun quick messages we have added for you!
"The in-match quick messages have always been the most used communication tool, and now we have a major update for it. You can now choose your favorite lines from over 50 quick messages to bring into the match. What's even more exciting is that we have introduced a female voice option!"

Customizable Quick Messages:
Enter through the Preset or Settings page.

Equipped messages can be set in a list or wheel.

You can switch between male and female voices.
Team Reminder
Let's see, WHO is not ready?
"We now introduce you to the brand new team reminder feature to help those who are easily distracted get ready quickly. Also, don't forget to use this feature to remind the team leader to start matchmaking!"

Trigger Conditions:
When there are members in the team who are not ready, the team leader can tap the reminder to remind them to tap ready.

When team members are all ready, they can tap the reminder to remind the team leader to start matchmaking.



Trigger Effects:
Flashing of the Ready/Start button and phone vibration.
Team Status Window
You see, it's not my fault for not being ready… I was just browsing in the store!
"We now have the new Team Status Window that allows you to see the current number of players and their readiness status in real-time while browsing other pages when you are in a team."
The position of the window is customizable.

When the window lights up, it means all team members are ready. When it's gray it means someone is not yet ready.

The window also has the reminder feature.
Invitation List Optimization
No more "I didn't see you!"
"Often when we get online, we want to check if our friends are also online to decide on which mode to play. However, in the past, we could only check by switching modes. Now, the invitation list is permanently available in the lobby, allowing you to check your friends' status any time. Additionally, we have integrated the friend leaderboard feature into the team invitation list. Take a look and see how many friends you have surpassed on the leaderboard today!"
The list is in a compact view by default, showing only the avatar, nickname, and online status.

After expanding the list, a new leaderboard status has been added, displaying the rank of friends.

Adjusted the position of the original Teamcode button.
Voice Chat Experience Optimization
Say goodbye to all those noises!
"In essence: We've optimized the voice chat experience."
Optimized the voice chat quality under high ping situations.

Game loading will no longer interrupt voice chat.

Added a feature that enables Free Fire voice chat to remain active in the device background. Activate it in the Settings menu.




Weapon Glory Leaderboard Optimization
Weapon Glory can now be viewed and showcased on your profile page!
"In order to make it more convenient for everyone to view and show off their Weapon Glory, we have added a Weapon section to the profile page! We have also made some optimizations to the display of the Weapon Glory Leaderboard. Become the strongest marksman among your fellow players!"
A Weapon section has been added to the profile page.

Display your full Weapon Glory Title in the Battle Royale spawn island.
Rank
Map Pool Adjustments
Kalahari is back!
"Kalahari is now back in the ranked map pool! Come and enjoy thrilling desert battles!"
The map pool for ranked matches has been updated! In the new patch, Alpine will temporarily leave the map pool, while Kalahari will make its return. The specific map list for ranked matches is as follows:
Game Environment
Compensation for Cheater Encounters in Ranked Matches
When you lose ranked matches because of cheaters, you will receive rank points as compensation.
"When you are eliminated by a cheater in ranked matches, you will receive corresponding rank points as compensation once the cheater is punished."
For Solo ranked matches, once the cheater has been punished, corresponding BR-Ranked/CS-Ranked rank points will be compensated to the player affected, and they will be notified via in-game mail.



Cheaters Will Be Immediately Kicked Out of the Match
We have sped up the process of punishing cheaters.
"When the system detects cheaters and bans them, they will be immediately kicked out of the match."
Cheaters will now be removed from matches more promptly.
Performance
Battle Royale Overall Loading Time Optimization
Enjoy smooth and seamless parachuting experience at the beginning of the Battle Royale matches!
"In the past, you may have experienced the frustration of catching a glimpse of the spawn island after a long wait, only to miss the perfect parachute timing due to another lengthy loading afterwards. Well, worry no more! Now, you will no longer encounter such issues in Battle Royale and can enjoy a seamless experience from start to finish!"
Re-modeled the environmental aesthetics of the pre-parachuting preparation phase.

The two-stage loading process has been streamlined into a single stage, significantly reducing the loading time to enter a Battle Royale match.
Duo Network Connection
A more stable experience.
"Problems do occur when you manually switch between networks due to poor Internet connection. Now, you no longer have to contemplate which one you should choose because you can have them all! We can now automatically switch to your best network connection."
If you enable Duo Network Connection in Settings, Free Fire will automatically select the best network for you during the match.

Please be aware that, when enabled, this feature will consume data.



Other Adjustments
Airdrop indicators are now more noticeable to prevent players from being eliminated by an Airdrop.

Added floating notifications when reconnecting after server disconnection, keeping players informed about their current network connection.

Pets will be hidden in matches by default to minimize distraction. However, if players consider them good helpers, they can bring them into matches from the Pet page.

Enhanced post-elimination information in Battle Royale: includes damage sources, headshot eliminations, and more for better analysis and faster improvement.

Players can choose to enable, disable, or set a timed option for Loot Radar under "Assistance" in the "Settings" menu.

When you open the CS Store, tapping or holding will display the weapon information, and dragging will close the window.

Pin function can be used when players are parachuting or in a car.

During the preparation phase of CS mode (inside the spawn point's red border), players can now mark points outside the border.

Removed Friendship Network.

In-game Free Recording function is now available on Android devices.

Adjusted players' standing positions when teaming up.

Tapping on a Pin will no longer expand the details.

Removed the Casual and Arena leaderboards.

The cooldown of pinning and sending quick messages will increase incrementally. If you frequently use the pin function within a short time, your pin cooldown will increase.

For clearer in-match viewing, adjusted the names of the following items:

Treatment Sniper > Heal Sniper

Treatment Pistol > Heal Pistol

Treatment Laser Gun > Heal Laser

Marksman Foregrip > Marksman Grip

Optimized the firing detection when a player is in prone position and facing a cover.

Clash Squad mode in rooms will now have the 9999 Cash round like in ranked matches. The store in Lone Wolf mode is now the same as the one in ranked.

A risk warning has been added when adjusting the graphics to higher quality.

Further reduced the response time when transitioning from the lobby to various core interfaces.
Craftland

"Spider-Verse" Parkour
Enter the Spider-Verse as a spider hero!
The "Free Fire x Spider-Man: Across the Spider-Verse" global collaboration will go live on June 9th. During the event period, you can shoot webs and swing across the skyscrapers like Spider-Man!
Mechanism
Enter the "Spider-Verse" Parkour mode from the mode selection page.

Select your favorite Spider-Man suit and become a superhero.

Shoot out webs to swing among skyscrapers and explore the metropolitan view in Free Fire inspired by the film setting.

In parkour races, use spider webs to slow down enemies.

Collect event tokens around the map and use them to redeem awesome event prizes!
Color Hide & Seek
Come out, come out, wherever you are!
"A brand new Hide-and-Seek mode will be available in July! Make funny and unforgettable memories under the romantic ferris wheel and the merry carousel. Hide and seek among puppets for a thrilling experience!"
Updated Gameplay:
Free look perspective for Hiders. You can now observe your surroundings even if your frontal position is locked.

Seekers can now activate a scan to locate Hiders.

Added a data storage feature and scoreboard, so that you can keep track of your accumulated points.

Brand new amusement park map for a joyful gaming ambience.



Color Spray
Paint your road to Booyah!
"To celebrate our anniversary, we will have a Color Spray gameplay, featuring spray guns and skills. Use them to eliminate your opponents, claim blocks, and Booyah!"
Rules
At the start of the match, players will wear outfits and obtain spray guns in the color of their respective teams.

Use spray guns to color blocks. Be wary: A block you've colored may be replaced by your opponent.

Spray guns can be used not only to color blocks but also to eliminate opponents.

Each team can activate different skills to give them an upper hand.

The team that captures the most blocks with their color wins.



Mystery Town
Let's unfold the mysteries.
"A thrilling mystery-solving gameplay that's perfect for the summer!"
3 roles, 2 sides:
Sheriffs must find the hidden Assassins and protect the Civilians.
Civilians must stay alive and help the Sheriffs find the Assassins.
Assassins must identify your allies and eliminate everyone else.
Rules
At the beginning of the match, players will randomly receive one of the following roles: Sheriff, Assassin, or Civilian.

Collect coins scattered throughout the map to unlock a variety of weapons and skills.

Explore the rich content of the map, including camping bases and botanical museums, and enjoy the adventure with friends.

When a Sheriff is eliminated, they will drop their weapon, which can be picked up by a Civilian to carry on the legacy and seek revenge against the Assassin.

Be careful: If a Sheriff accidentally eliminates a Civilian, they will die together.



Fort Feud
Guard your home, conquer the realm!
"Fort Feud will go live this summer. Wield your weapons to destroy enemy turrets and protect your homeland!"
Rules
4 teams of two.

Build an aerial garden where you will call home.

Select your preferred weapons from the home armory and purchase team buffs from the buff store.

Build a road that leads to enemy compounds, so that you can ultimately destroy their turrets and Booyah!

Be careful! You will be eliminated if you fall from the sky.

If you're eliminated, you can use Revival Tokens to return to the match.
Craftland Token
Collect Craftland Tokens in Craftland maps to redeem exciting rewards!
"Craftland will have its exclusive token, which is hidden in all kinds of Craftland maps. Explore different maps to collect the glowing tokens and redeem goodies at the Store! (Craftland Tokens are valid for an extended period of time!)"
Other Optimizations
Stay informed about updates to your favorite maps with the "NEW" tag.

The Cutie Kelly chat stickers will be available for use in some maps when the 6th anniversary celebration begins.

Access new Craftland maps straight from the lobby. Limited time only.

Increased the capacity for Craftland rooms. No more eenie meenie minie moe when inviting friends!