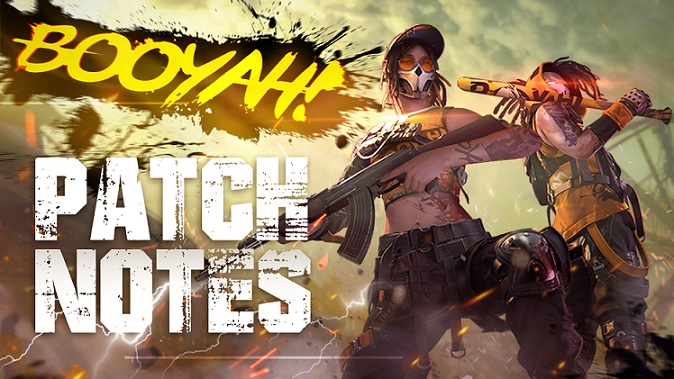 Clash Squad
Rank Season 3
Season starts 09/24 17:00 SGT
"Clash Squad Season 3 is here! Rank up to Gold III or above to receive the Clash Squad exclusive item - The Golden FAMAS!"

Clash Squad Store Adjustment.
Added sound for purchasing mushrooms and Horizaline.
Players will no longer lose stars when they connect and win the match they have abandoned.
Players will receive fewer points on their rank shield (protection points) after Platinum Rank.
Weapon and Balance
New Weapon - PARAFAL
Available in Classic & Clash Squad
"The PARAFAL is a new AR that will be available after the patch. With its super high stopping power and extreme range, players will be able to take down enemies from far away with ease. However, the slow rate of fire will give opponents opportunities to attack once you miss a few shots."

Damage: 48
Magazine: 30
Rate of Fire: 0.245
Attachments: Muzzle, Stock, Magazine, Grip, and Scope.
New Weapon - The Flamethrower
Available in the Training Grounds
"Introducing the Flamethrower, a close-range secondary weapon that can burn everything down to the ground. The boiling heat will allow players to melt down gloo walls faster than any other weapons in the game. This weapon is ideal for close-range and indoor situations."

Damage: 15
Minimum Damage: 10
Range: 4
Rate of Fire: 0.06
The Flamethrower cannot be reloaded.
Grenade
New Mechanism & Projectile Display Optimizations
"The grenades have been underutilized for a while now due to the time it takes to detonate. We are adding a new mechanism for players to cook the grenade so they can control when it will explode. Be careful, don't let it explode in your hands!"

Optimized the grenade projectile display to match the actual throwing distance.
Players can now cook grenades and shorten the time it takes to detonate.
P90
Rate of Fire and Accuracy Increase
"The P90 has been in a bad spot for a while now. Even with one of the highest magazine capacities, the P90 simply does not perform well due to the inaccuracy of the weapon. We're going to reduce the maximum spread of the P90 by a bit so the recoil is more manageable."

Rate of Fire: +3%
Maximum Spread: -10%
M14
Base & Minimum Damage Adjustment
"The M14 is currently in a good spot compared to other ARs. However, its ability to snipe down enemies from the long range is a bit too hard to deal with right now. We're reducing the minimum damage of the M14 a bit, but the core strength of this rifle should remain the same."

Damage: 58->59
Minimum Damage: 30->25
M14 Rage Core
Rate of Fire Decrease
"The advanced attachment for the M14 is what brings this weapon to the next level. However, the current rate of fire of the Rage Core is too strong for any weapon to contest. We're taking some of the power away from the Rage Core so the total damage output is more consistent with other weapons."

Rate of Fire: -11%
PLASMA
Accuracy Increase
"The PLASMA has been known as the early game rifle for a long time due to its inability to perform in the late game. We're giving its accuracy a decent adjustment so its power can be more in line with other ARs with attachments on."

Precise shots: 4->6
Spread when moving: -11%
Kar98k Biometric Scope
Aim Assist Decrease
"The Kar98k with the Biometric Scope is no doubt one of the deadliest weapons we have currently. We are going to reduce the aim assist on this advanced attachment to take away some power from quicking scoping with the Biometric Scope."

Aim assist radius: -35%
Glider
Flight Altitude Decrease
"The glider is currently too strong on some maps due to its ability to stay in the air for a very long time. We're going to be reducing some of its airtime to make sure players cannot get to unreachable places with the glider."

Maximum flight altitude 38->14
Scan
Now able to reveal Vehicles
"Now you can see everything. Literally."

Scan will now reveal vehicles on the map.
Characters
Jai
Skill Adjustment
"Shortly after we released Jai, we received feedback that the amount of ammo restored is not sufficient for players to take down additional enemies on low-ammo weapons. We are giving this skill a buff so this skill can be useful in more situations."

% Reload Capacity: 10/13/16/19/22/25%->30/33/36/39/42/45%
limited to AR, Pistol, SMG->limited to AR, Pistol, SMG, and SG
Clu
Skill Adjustment
"Fixed a bug where enemies can see Clu's location when she activates her skill."

Enemies can no longer see Clu when her skill has been activated.
Gamemode
Training Ground
New Minigame, Private Theatre, and Vehicles Update
"We received multiple feedback that players prefer spawning next to each other inside the training ground so it is easier to hangout with their buddies. We're making optimizations on spawn points and adding new features so this will be the ideal spot to hangout!"

Players will now spawn close together when entering the social zone.
Added new features for vehicles: Restore vehicle position and Honk.
The Amphibious Motorcycle can now use Nitro and Jump
New Minigame - Target Arcade now available.
Private Movie Theatre now available.
"The Arena"
Available in Classic and Rank Mode
"A brand new spawn island that was designed for our 2020 Free Fire Continental Series. Are you ready to compete?"

New spawn island: "The Arena" now available.
Gameplay
Team Boost
Available in Battle Royale and Clash Squad Classic
"We're trying out a new mechanism to allow players to boost their teammates to higher locations and get strategic advantages. However, the "Booster" will have to stay stationary on the ground, so make sure you only do this when there are no enemies around."

Players can now jump higher by taking off from a crouched teammate.
System
Armory
New page at the main Lobby
"As we add more and more weapon skins to our game, we realize that it is about time to optimize the Armory page. We not only moved the Amory out as a separate page in our lobby, but we also added a 360 degree weapon preview for you to see your favorite weapon skins in detail. Players can now view their favorite weapons & skins in a brand new menu. Go check it out!"

Brand New Armory menu now available!
Optimized the weapon sorting method.
Added a 360 degree view for all weapon skins.
Players can now share screenshots of their weapon skins on social media.
Upload Settings & HUD to Free Fire Cloud
New Feature in the Settings Menu
"Tired of adjusting all your settings every patch? You guys asked and we delivered."

Players can now upload, download, and overwrite their config in the settings menu.
Backpack Sorting
Available in all Modes
"Tired of messy backpacks after looting? Well, we got you."

Players can now sort their backpack in-game
Bug Fix and Optimizations
Gloo walls can no longer displace players' models.
Mushrooms can now be marked.
Players can now open the settings menu when they are spectating or dead.
Optimized the filter function in Free Fire store's Armory.
Optimized MVP display for the winning/losing team for all close combat modes.
Optimized the model for the Jeep.
Optimized in-game active skill display.