Clash Squad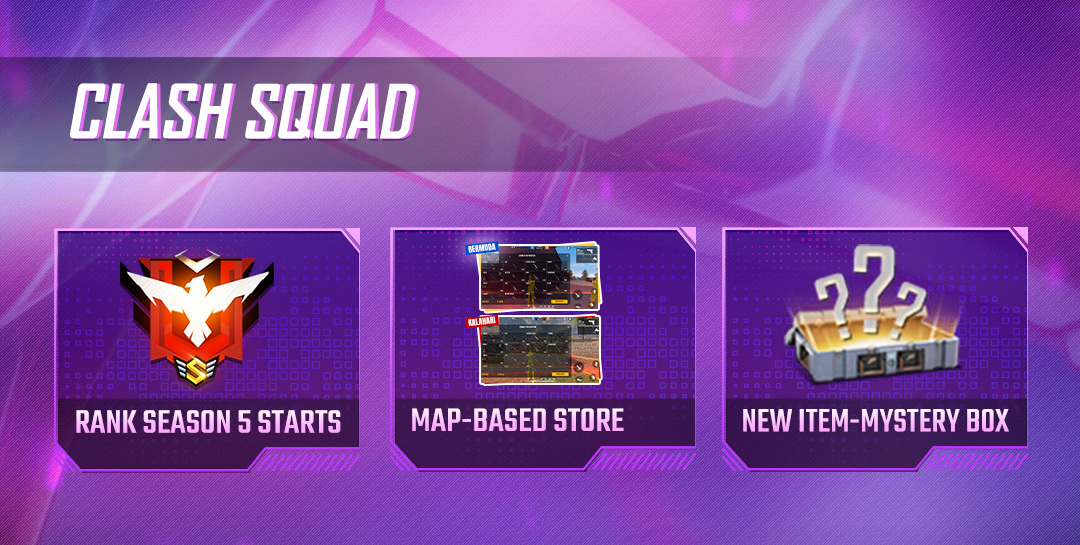 Rank Season 5
New Season starts 02/05 17:00 SGT
"Clash Squad Season 5 is here! Rank up to Gold III or above to receive the Clash Squad exclusive item - The Golden MP5!"
New Rank Season available from 02/05~04/14
Map-Based Store
Store Adjustment for Clash Squad
"Ever since we"ve adjusted the store in season 4, we got feedback that you guys hope to see more weapons in Clash Squad. In season 5, we will be introducing a new store system where players will activate different sets of stores on different maps. This way, most of your favorite weapons will be available to you in Clash Squad."
Two sets of stores will be available:
Bermuda / Bermuda Remastered Store
Kalahari Store
New Item - Mystery Box
Available for Clash Squad - Casual Only
"The Mystery Box is designed to give the losing team an opportunity to fight back by giving the buyer a chance to obtain special items from the box. Players will be given 3 items inside each Mystery Box and they can choose one of them to bring into battle. Come try your luck!"
Mystery Box now available in Clash Squad - Casual.
Battle Royale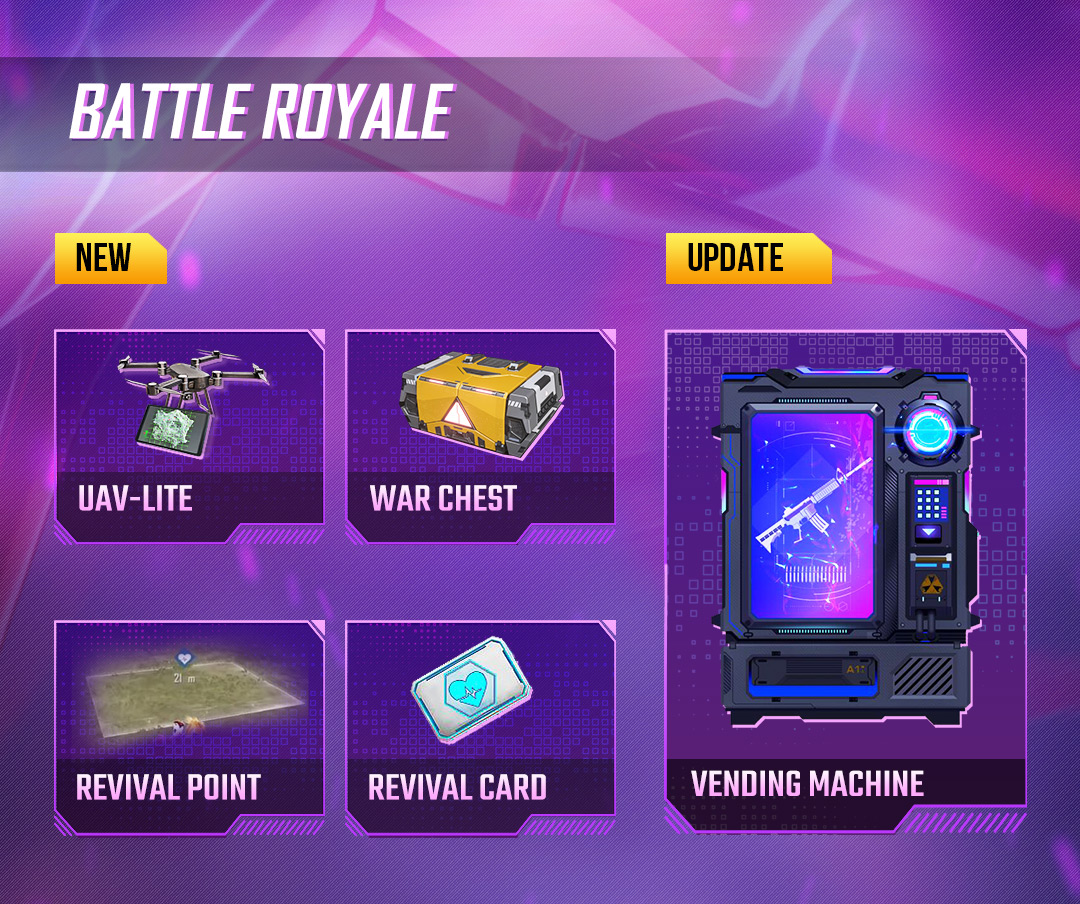 Vending Machine Update
Item and Pricing Update for Casual and Rank
"This patch, we are making some adjustments to the vending machine. First off, we will be adjusting the price of various objects based on their performance. In addition, we will be increasing the amount of tokens available on the map so players can use the vending machine more frequently to upgrade their gear."

New Item - UAV-Lite now available in the vending machine.
Adjusted the tokens available on the map.
Vending Machine price adjustment.
New Item - UAV-Lite
Available in Classic (Casual & Ranked)
"The UAV-Lite (Personal UAV) will be a utility item that can scan the surroundings to see if there are enemies nearby. Using it as a drone before moving out to ensure the safety for your squad."

Personal UAV available in the vending machine.
New Item - War Chest
Available in Classic (Casual & Ranked)
"We realized that it is a bit difficult to find and locate loot in outdoor areas. In this patch, we will be putting War Chests in several locations to make looting easier on the battlefield."
War Chests now available in Classic Mode.
New System - Revival Point
Available in Classic (Casual Only)
"Revival Point will be a new system in Classic Mode where players can revive the entire team after capturing and activating the Revival Point. However, revival points are located in locations with minimal covers. So be prepared, as nearby enemies are signaled when the revival point is being activated."

Activating the Revival Point will revive the entire squad.
New Item - Revival Card
Available in Classic (Casual Only)
"You can now be re-deployed to the battlefield if your teammates purchase the "Revival Card" from the vending machine. After the update, any teams with at least one member standing will still have opportunities to revive their squad before the final play zones appear."

New Item - Revival Card now available in the vending machine.
Training Grounds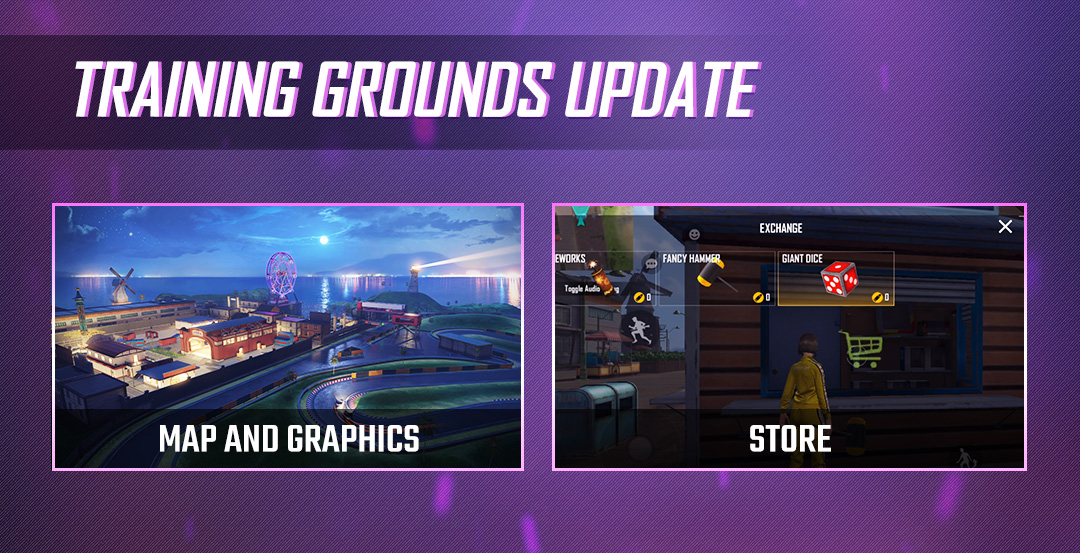 Map and Graphics Update
Zone Adjustments
"This patch, we are moving the Training Grounds onto a brand new Island - Batou. We have added brand new features such as the Ferris Wheel, Bunny Race, and the esports Hall of Fame in the Social Zone. In addition, players can now go to the race track and speed through the island with their friends. Try them out and let us know what you think!"
New Mini Games Available:
- New Shooting Range
- Bunny Race
- esports Hall of Fame
- Ferris Wheel
- Gloo Wall Training.
Training Grounds Store Update
New Items Available in the Training Grounds Store
"We"re adding more items in the Training Grounds Store. Visit the store to see all the new items you can purchase with your engagement coins."
New Item - Fancy Hammer now available.
New Item - Giant Dice now available.
Weapon and Balance

New Weapon - MAG-7
Available in Classic & Clash Squad
"MAG-7 will be the new shotgun coming into this patch. With its super high rate of fire, this weapon will be extremely deadly in close quarter combats."
Base Damage: 20
Magazine: 8
Rate of Fire: 0.2
Attachments: Grip, Stock
Vector
Damage, Accuracy, and Range Nerf
"The Vector has been performing too well compared to its peers. We are reducing the damage and range a bit to make sure opponents have more time to react when facing the Vector."
Minimum Damage: -1
Maximum Range in Akimbo: -4
Accuracy in Akimbo: -18%

M1014
Damage and Rate of Fire Buff
"The M1014 has fallen quite a bit ever since we"ve introduced the M1887 and Vector. We are giving it higher damage and a bit more firing rate to make sure it stays competitive with other shotguns."
New firing sound.
Minimum Damage: +3
Rate of Fire: +5%

M1887
Range Nerf
"The M1887 has been the king in mid-to-close range battle for too long. We are reducing the range slightly so it will be more difficult to be one shotted by your opponent in mid-range."
Maximum Range: -3%

PARAFAL
Accuracy and Range Nerf
"The PARAFAL"s range is a bit too long at this moment, it is really similar to a fully automatic marksman rifle. We are reducing the effective range slightly while giving it more stability to open up more long-range weapon varieties."
Recoil: +9%
Maximum Range: -15%
REMOVED the magazine attachment slot.
Woodpecker
Rate of Fire Nerf
"The Woodpecker is currently too strong due to its large magazine size and relatively high rate of fire. We are removing the magazine attachment slot to make sure the weapon is not too imbalanced with the level 3 magazine equipped."
Rate of Fire: -8%
REMOVED the magazine attachment slot.

UMP
Damage & Armor Penetration Buff
"The UMP is having trouble against high level armor even after our buff in the previous patch. We are increasing its armor penetration to 30% to increase this weapon"s viability in the final circles."
Armor Penetration: +5%
Minimum Damage: +1

M249
Stats Adjustment
"The M249 is currently in a bad spot due to its low mobility and lower range. We are adjusting the stats of the M249 so it can be effective in providing suppressive fire from the far."
Movement Speed While Firing: +10%
Minimum Range: +4%
Accuracy While Moving: -4%

SVD
Damage and Rate of Fire Nerf
"The SVD currently out performs all the air-drop weapons by a large margin due to the additional damage it deals to the body. We are toning the damage buff and the rate of fire a bit so players have a bit more time to react when they"re being sniped from distance."
Rate of Fire: -9%
Additional Damage to Body: 50%->40%

Groza
Rate of Fire, Damage, and Recoil Adjustment
"The Groza is currently performing a lot worse than other airdrop weapons and it is easily replaceable by other ARs. We are increasing the total damage output of the Groza by a bit this patch so the risk of reaching the airdrop can match its rewards."
Rate of Fire: +8%
Minimum Damage: +3
Recoil: -6%
Deal 100% damage to arms and legs.

FF Knife
Now Available in Classic (Casual & Ranked)
"Are you ready to see more throwing knives in action?"
Base Damage: 50
Ammo: 3
Rate of Fire: 0.5
Armor Penetration: 100%
Others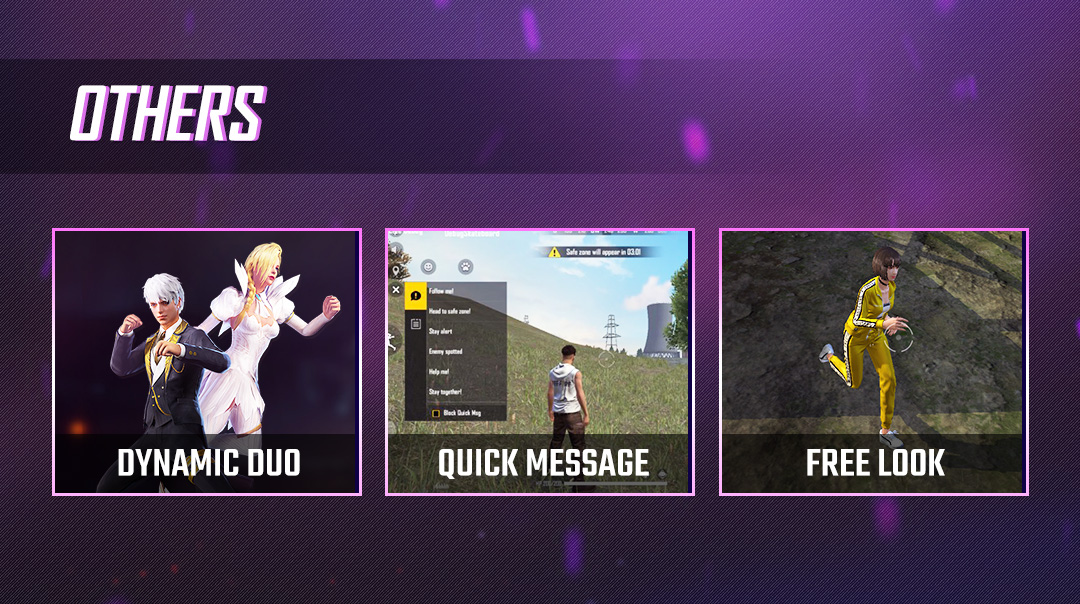 Dynamic Duo
Available on 02/09
"Introducing the Dynamic Duo System - a special partnership that you can form with your friend by purchasing The Golden Vow from Free Fire store. Once you and your friend become a Dynamic Duo, you guys can unlock a series of milestones and achievements based on the time you guys spend playing together. Find your partner in crime and begin your journey together!"
Dynamic Duo will be available on 02/09 15:00 GMT+8

Social System Update
Available in all modes
"We"re making big changes to our in-game social features this patch. After the patch, you will have many new ways to recruit new teammates and friends through our Team Lobby. In addition, you can now set your playing preference in the new personal name tag and play with players who have similar play styles."
Friend"s Network now available.
Players can now pre-invite their friends who are in game.
New personal profile & name badge now available.
Leaderboard display optimization.
Team Lobby now available.
Quick Message
Available in all modes
"We recognized that it may be a bit difficult to communicate with your teammates if they do not have a mic available. With the quick message, you will be able to quickly sync up your next moves with just a few clicks."
In-game Quick Messages now available.
Free Look
Available in all modes
"We got feedback that it can be a bit hard to spot enemies when sprinting. This patch, we will be adding a Free Look function so you can turn your head while sprinting."
Free Look now available in the settings menu.

Optimizations
• Twitter log is now supported.
• Vehicles can now honk in Classic Mode.
• Crouching and uncrouching will no longer interrupt reviving teammates.
• Teammate"s name will become half visible next to crosshairs.
• Fixed a bug where damage does not register on hit.
• Optimized the visuals for K"s skill visual display.
• Inhaler can now heal above 200 HP for characters with 200+ max health.
• The bounty from the Bounty Tokens will now be marked on the mini-map.
• Clash Squad"s scoreboard will now display teammates" combat status.
• Players can now view teammate"s equipment & skills when spectating.
• Allow high FPS options on more devices.
• Added a function to open multiple loot boxes with one click.
• In-game makers will now be shown on the map during parachuting
• Added sound effects for cracking enemies" armor and helmets.
• FAMAS-X now available in Classic Mode.
• Added sounds effects for headshots.