Patch Notes: 5th Anniv.
Common Features
Upgraded UI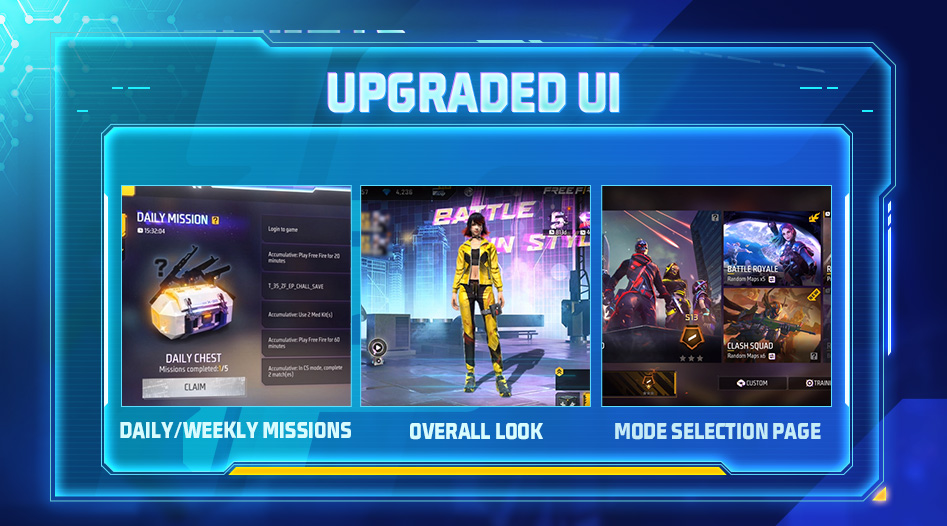 Khoobsurat aur purkashish - 'mazeed kuch kehnay ki zaroorat nahi!
"Humari 5th anniversary mein khushamdeed! Updated UI kay zariye bilkul nayi Free Fire mein gum honay kay liye tiyar ho jayein, jis mein lobby, pop-up windows, aur bohot kuch shamil hai! Game mein jayein aur "Battle in Style" ka tajarba karein!"
Overall look:
- Classic Free Fire kay elements ko mehfooz rakhtay hoye trendy aur energetic designs shamil kiye gaye.
- Naya logo aur symbolic icons.
Mode selection page:
- Battle Royale aur Clash Squad kay casual modes mein har aik kay liye, matchmaking kay liye multiple selection ko enable karnay kay liye maps ko single entrance mein compile karein.
- Mazeed orderly display kay liye interface layout ko upgrade kiya.
Daily/Weekly missions:
- Page layout ko behtar banaya, jo ab Daily Chest (aik naya shamil kiya gaya inaam!) aur Free pass kay bohot baray inaam ko display karta hai, jis se interface ko navigate karna asan ho jata hai.
- Rozana kay missions aur EP badges ki progress dikhata hai.
- Match results page par mission ki progress aur status display karta hai.
Character
Skill Rework
Miguel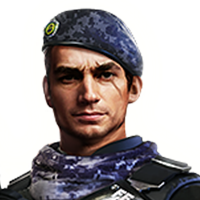 Crazy Slayer ko ab dushmanon ko knock down kar kay trigger kiya ja sakta hai.
"Hum samjhtay hain kay ap mein se bohot se logon ko Miguel ki skill ko activate karna mushkil lagta hai aur wo apni battles mein Crazy Slayer ko istemal nahi karna chahtay hain. Iss patch mein, Crazy Slayer dushman ko knock down karnay kay baad trigger kiya ja sakta hai takay ap usse degar recovery skills kay sath jor sakein aur larai mein apna waqt barha sakein."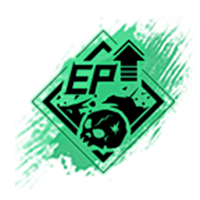 Crazy Slayer:
Har knockdown kay liye 30/40/50/60/70/80 EP hasil karein.
Skill Mein Tabdeeliyan
Andrew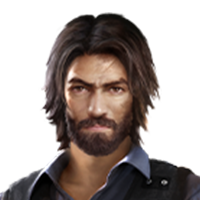 Armor durability kay nuqsan ki percentage ko kam kiya.
"Jaisay kay ap pehlay se hi jantay hain, looting aur larnay ki stages kay doran armor bohot zaruri hai. Iss se pehlay, aik bar dushmanon kay sath engage honay kay baad armor durability aksar kam ho kay zero ho jati hai. Hum ne Andrew ki skills mein tabdeeliyan ki hain takay armor durability protection ko behtar banaya ja sakhe."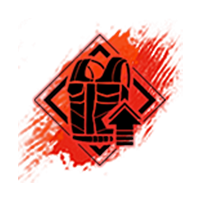 Wolf Pack:
Vest Durability ka nuqsan 10/12/14/16/18/20% kam hota hai.
Hayato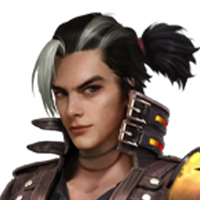 Armor penetration ki power ko kam kar diya.
"Awakened Hayato ki skill na sirf nuqsan ko kam karti hai balkay armor penetration se bhi lutf andoz hoti hai, jo attack aur defense dono kay sath sath kisi bhi situation mein powerful banati hai. Lehaza, iss patch mein, hum ne behtar balance kay liye Hayato ki armor penetration ki abilities ko kam kiya."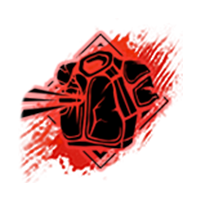 Art of Blades:
Zyada se zyada HP mein har 10% kami kay sath, armor penetration 4.5/5/5.5/6/6.5/7% barh jati hai.
Antonio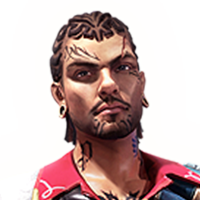 Zyada se zyada HP mein izafa hua.
"Antonio ki skill sirf match kay initial stage mein hi useful thi, iss liye hum ne zyada se zyada HP mein izafa kiya jo iss ki skill mein izafa karta hai."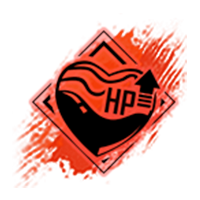 Gangster's Spirit:
Round shuru honay par 15/20/25/30/35/40 izafi HP hasil karein.
Nikita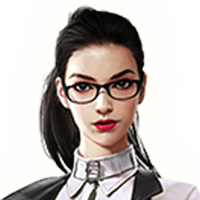 Skill kay nuqsan mein izafa.
"Taiz reload speed kay elawa, SMG nuqsan ko barhana bhi Nikita ki skill mein aik unique izafa hai. Kyun kay nuqsan ko barhana mushkil tha aur SMGs ka single-bullet se honay wala nuqsan bohot kam hai, iss liye hum se Firearms Expert kay nuqsan ko barhaya."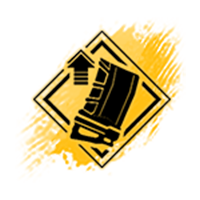 Firearms Expert:
Reload speed mein 14/16/18/20/22/24% izafa hota hai. User ki SMG ki akhri 10 bullets se 15/18/21/24/27/30% zyada nuqsan ho ga.
Joseph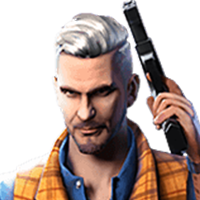 Slow moving aur sprinting speed.
"Agar ap ne pehly kabhi dushman par pehli shot miss ki hai to apna hath utahyein. Kyunke skills ka aisa combination jo movement speed ko boost kar dy, iss combination ky sath dushmano ko marna taqreeban na-mumkin ho sakta hai aur iss waja se dusray players kay gaming tajarbay ko manfi tor par mutasir kar sakta hai, iss liye hum ne behtar balance kay liye Nutty Movement ki speed mein izafay ko kam kiya hai."

Nutty Movement:
Nuqsan honay par movement aur sprinting speed mein 5/7/9/11/13/15% izafa hota hai.
Clash Squad
Map Balancing mein Tabdeeliyan
Kalahari mein kuch spawn points ki locations ko modify kiya.
"Hum ne mehsoos kiya kay Maze aur Council Hall kay spawn points aik side se behtar competitive edge farahum kartay hain. Iss patch mein, hum ne playing field ko balance karnay kay liye 2 areas mein spawn points ko adjust kiya."
Kalahari:
The Maze aur Council Hall: Spawn points ko thora sa horizontally move karein takay dono sides high ground se aik jaisay faslay par hon.
Scoreboard par Skills ki Tafseelat
Scoreboard par skills ki tafseelat aur statuses daikhein.
"Skills kay baray mein maloomat Clash Squad mein battles ka eham hisa hai, yehi waja hai kay hum ne iss maloomat ko scorebored mein shamil kiya hai takay ap teammates aur opponents ki active skills kay statuses daikh sakein. Issi tarhan, ap apnay teammates ki skills kay mutabik apni battle tactics ko adjust kar sakte hain aur opponent ki potential skill activations ka muqabla karnay kay tareeqon kay baray mein sooch sakte hain."
Clash Squad mein scoreboard ab teammates ki active skills aur cooldown time aur opponent ki active skills ky baray mein maloomat dikhata hai.
Random Buffs
Har match mein random buff ko trigger karnay ka moqa hota hai.
"Clash Squad mein kuch nayi excitement talash kar rahay hain? Iss patch mein, hum ap kay liye Clash Squad mode (custom rooms) mein random buffs ki aik series lanay kay liye bohot khush hain: HP mein mustakil izafa, HP mein mustakil kami, aur zyada se zyada HP Booster. Jaldi se game mein jayein aur inhein azmayein!"
Clash Squad mode mein custom rooms ab darj zeyl buffs ko support kartay hain (har match mein kisi aik buff ka samna karnay ka random moqa hai):
- HP mein mustakil izafa: Jab dushman kay attack mein na hon tou player 15 HP per second ko restore karay ga.
- HP mein mustakil kami: Player 2 HP per second kami kar de ga
- MAX. HP Booster: Player ka zyada se zyada HP barh kar 325 ho jaye ga.
Degar Clash Squad Updates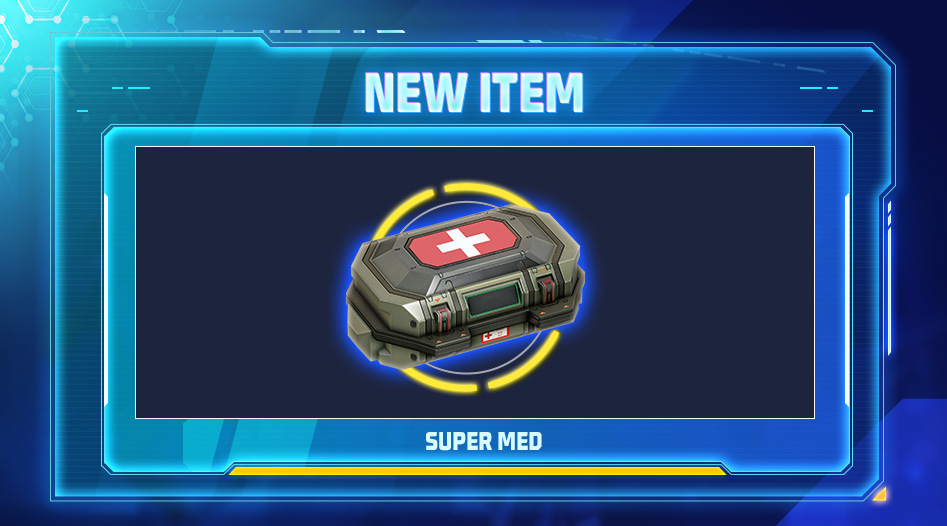 Naya item: Super Med, jis ko istemal karnay mein 4 seconds lagtay hain aur 4 seconds kay andar 200 HP ko restore karta hai. Airdrop mein dastyaab hai.
Battle Royale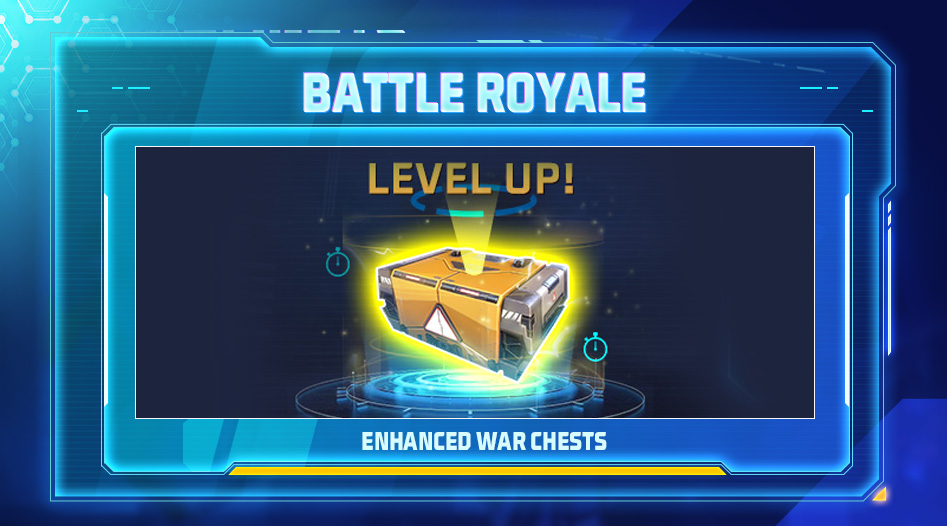 War Chests mein Behtari
Aik match kay khatam honay tak War Chests kay istemal ko barhaya
"Jab ap dor se War Chest ko daikhtay hain tou ap ka dil zor se dharakta hai, ap khushi mein teizi se iss ki taraf dortay hain, sirf ye maloom karnay kay liye kay isse pehlay hi loot liya gaya tha? Apko is tarhan ki mayoosi say bachanay kay liye, hum ne War Chests mein random refresh mechanism shamil kiya hai. Ab ap FF Coins ko inn mein mojood items ko refresh karnay kay liye spend kar sakte hain aur refresh karnay kay chances unlimited hain (jab tak kay ap kay pass kafi FF Coins mojood hain!)."
War Chests time kay sath level up ho jayein ge. Zyada se zyada level 3 tak.
Level 1 War Chest ki pehli loot muft hai, aur har martaba refresh ki cost 100 FF Coins aur har loot ki cost 300 FF Coins ho gi.
High level War Chests mein rare items ko kholnay kay behtar chances hotay hain.
Rare items mein Super Meds, Horizaline, UAV, Upgrade Chip, har tarhan kay Airdrop hathyaar wagera shamil hain.
Safe Zone mein Tabdeeli
Final Safe Zones ki randomness ko behtar banaya.
"Aik wild guess laganay ko alvida kahein kay final Safe Zone map kay center mein ho ga, jaisa kay hum ne final Safe Zone ko determine karnay ki logic ko behtar banaya hai. Iss behtari se honay walay kamal aur challenge kay liye tiyar ho jayein!"
Battle Royale mode mein zone-shrink logic ko behtar banaya gaya takay final Safe Zone behtar randomness mein tiyar ho. Battle kay doran, players ko zones mein honay wali tabdeeliyon kay liye bhi actively nazar rakhni chahiye.
Degar Battle Royale Mode Tabdeeliyan
Naya item: Super Med, jis ko istemal karnay mein 4 seconds lagtay hain aur 4 seconds kay andar 200 HP ko restore karta hai.
Naya hathyaar: Bizon.
Mazeed Airdrop Vending Machine drop locations.
Killstreak ki announcements.
Vending Machine mein muft iems par "Free" ka label lagaya jaye ga.
Musalsal Safe Zone se bahir rehnay kay baad zone ko pohanchnay walay nuqsan ko barhanay mein lagnay walay waqt ko kam kar diya.
Hathyaar and Balance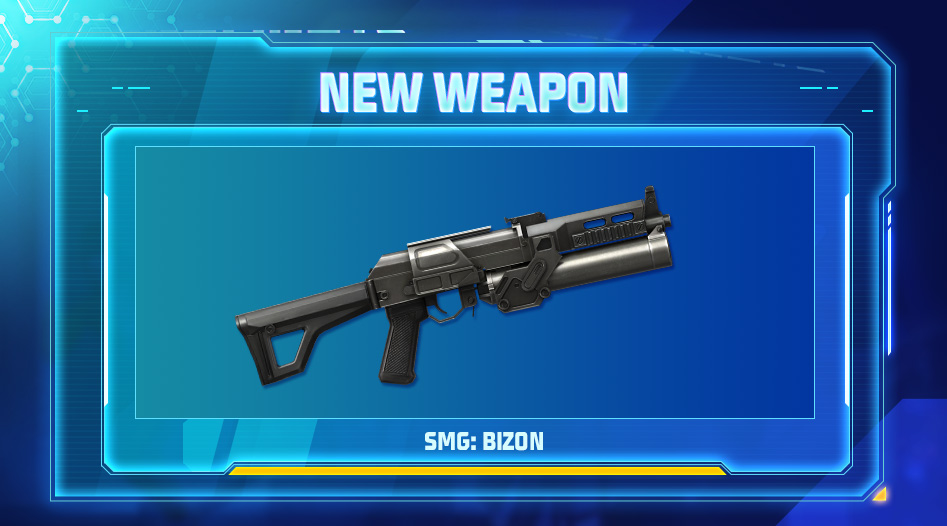 Naya Hathyaar: Bizon
Naya hathyaar dastiyab hai
"Bizon aik SMG hai jo close combat mein behtareen kam karta hai. Iss ki fire ka rate bohot zyada hai jo zyada nuqsan pohancha sakta hai, leikin bohot zyada nuqsan kay sath kam accuracy bhi ati hai."
Base Nuqsan: 29
Rate of Fire: 0.098
Magazine: 30
Hathyaar ki Tabdeeliyan
Darj zeyl hathyaar ko tabdeel kiya:
Famas-III: Armor penetration +5%
M14-III: Rate of fire -6%
Scar: Nuqsan +6%
G36: Assault Mode fire ka rate +8%, Range Mode accuracy +12%
UMP: Armor penetration -10%
M24: Nuqsan +8%,
M1887: Fire ka rate +5%, effective range +5%, nuqsan -5%
Grappling Hook Gun:
- Motion mein rehtay hoye gun-switching ko support karta hai.
- Nishana bandhanay mein support karta hai.
- Landing recovery time ko kam kar diya.
Gameplay
Gloo Wall Smart Throw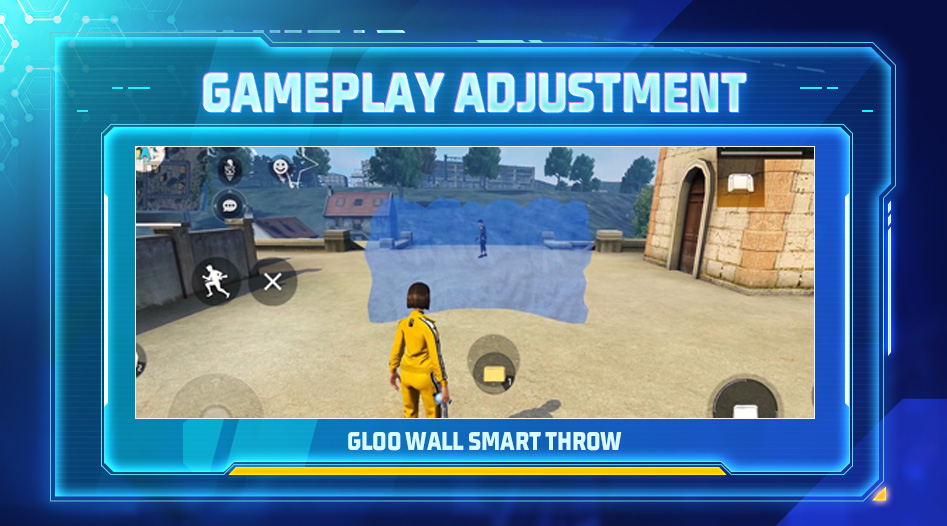 Gloo Wall guru banein!
"Gloo Wall Free Fire kay gamplay kay core elements mein se aik hai, chahay pro battles hon ya casual games mein hon. Gloo Walls laganay kay process ko taiz karnay se humaray fellow newbies ko iss item se taizi aur asani se acquaint honay mein madad milay gi!"
Players ab settings kay menu se Smart Throw ko on kar sakte hain. Aik bar on karnay par, players apnay samnay Gloo Wall ko taizi se rakhnay kay liye Gloo Wall button ko aik martaba tap kar sakte hain. Smart Throw ka istemal kartay hoye Gloo Walls ko rakhnay ka aik aur tareeka ye hai kay Gloo Wall button ko press aur hold karein, apni marzi ki location par nishana bandhein, aur placement ko confirm karnay kay liye release karein.
In-game Command Wheels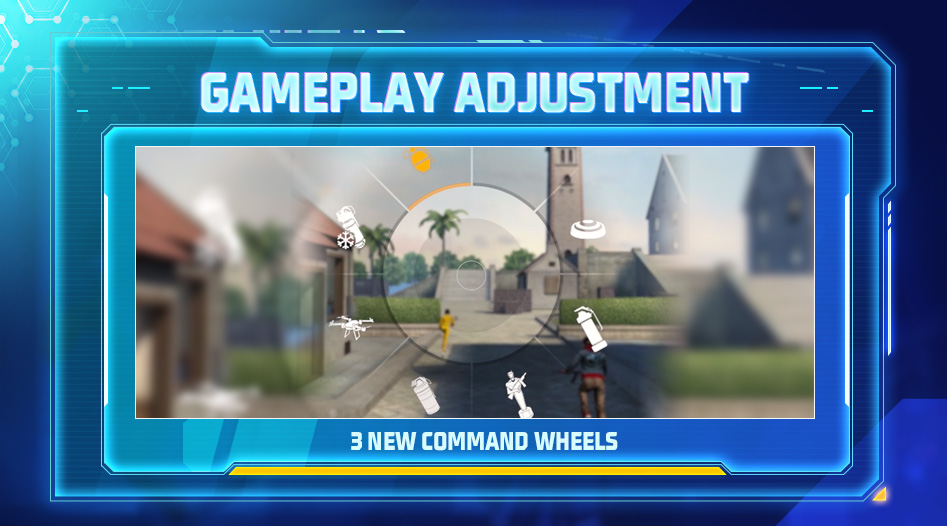 Smooth navigations kay liye in-game command wheels ko upgrade kiya gaya.
"Jaisay jaisay Free Fire features tadad mein barh rahay hain, mukhtalif items aur functions jaisay kay quick messages, grenades aur Med Kits tak fori access ki zaroorat barh rahi hai. Iss patch mein, ap humaray in-game command wheels kay zariye zyada asan command selection say lutf andoz ho sakte hain."

Players "use" kay button ko pakar kay command wheels ko activate kar sakte hain. Darj zeyl functions ko command wheels support kartay hain:
- Quick messages
- Throwables
- Med Kits
Degar Optimizations
Pasandeeda Character
Apnay favorites mein characters shamil karein takay wo list mein top pay nazar ayein.
"Hum sab ko aik lambi list mein se kuch talash karnay se nafrat hai. Ab ap apnay pasandeeda characters ko inn kay respective pages par "favorite" par tap kar kay asani aur tezi se talash kar sakte hain, takay agli bar jab ap inko equip karna chahein tou wo list mein sab se upper display hon."
Favorite mein shamil honay par, select kiye gaye characters ko top par dikhaya jaye ga:
- Characters page
- Equip Skills page.
Replay Feature Optimization
Replay function ab first aur third person perspective kay darmiyan switch karnay aur match ki highlights generate karnay ko support karta hai.
"Hum ne seekha hai kay players apni performance ka review lainay aur improvement par kam karnay kay liye humaray Replay feature ka istemal kartay hain. Mazeed ye kay kuch players apni battles mein se kuch moments ko cut karna aur apnay doston kay sath share karna chahtay hain. Lehaza, hum ne apnay replay function ko upgrade kiya hai takay apko taiz, zyada asan aur zyada efficient user experience mil sakhay."
- View perspective ko switch karnay kay liye aik button shamil kiya gaya. Third-person perspective ko support kiya gaya hai.
- Replay videos mein knockdown, elimination, assist, first blood, aur multi-elimination announcements shamil kiye gaye.
- Match highlights ab game ki performance kay mutabik automatically generate ki ja sakti hain. Highlight mode aur regular mode kay darmiyan switch karein aur background music ko on ya off karein.
Interactive Character Voices
Kuch halaat mein kuch characters kay unique voiceovers ko activate karein.
"Kabhi kabhi, kuch emotional lamhaat gaming kay overall tajarbay mein bohot zyada izafa kartay hain, chahay wo ap kay comrades kay liye khushi ka izhar kar rahay hon ya jab koi teammate apki madad karay tou "Thank you" keh raha ho. Pehlay, Free Fire characters mein sab se bara farq unn ki skills ka tha, aur baki kafi zyada aik jaisay thy. Ab, hum ne character interactions ko shamil kiya hai jo kuch situations mein activate ho jayein ge, takay ap humaray har fighter ki uniqueness ko mehsoos kar sakein!"
Iss patch mein special in-match voiceovers walay Characters:
- Kelly
- Moco
- Hayato
- Maxim
Voiceover trigger conditions:
- Match mein Booyah
- Jab score Clash Squad Mode mein kam/zyada hota hai
- Clash Squad mode mein equipment ki khareedari kay doran
- Battle Royale spawn island mein enter hona
- Airplane se bahir nikalna
Degar Tabdeeliyan
Jab team force kay 1 player kay elawa baki tamam players quit kar daity hain tou akhri player kay quit karnay se Honor Score mein kami ka samna nahi karna paray ga.
Player ab lobby ya room mein teammates ko mute / unmute kar sakte hain.
Jab kisi dost ki booking receive hoti hai aur match kay doran usse accept kiya jata hai, tab receiver dost ko shamil honay ki request aur whisper bhej sakta hai (agar dost group mein hai).
Players ab teamcodes ko copy aur paste kar sakte hain.
Match kay baad ki friend recommendations ko behtar banaya gaya.
Mukhtalif reward icons ab Download Center mein corresponding resources kay sath shamil kiye gaye hain.
Agar koi player match kay doran cheat kartay hoye pakra gaya tou wo automatically match se remove kar diya jaye ga aur baki players ko system notification receive ho ga.
Gold hasil karnay kay behtareen visual indications. Amount mein izafay kay baray mein notify karnay kay liye Gold amount py khas effect paray ga.
Upgrade Chips kay user kay tajarbay ko behtar banaya.
Charge Buster kay sound effects ko behtar banaya.
Passive skills ko activate karnay par skill icons par visual effects ko behtar banaya.
A124 ki janib se silence honay par skill icons par visual effects mein behtari.
Teammates jin ki locations minimap kay scope se bahir hain unn ki locations ki direction btanay kay liye pin kiya jaye ga.
Ground par loot ki list auto pickup settings mein priority kay mutabik display ki jaye gi.
Clash Squad mode mein, Ace karnay walay teammates ko lagatar bohot martaba thumbs up diya ja sakta hai, zyada se zyada 10 martaba.
Flashbag ka istemal kartay hoye dushman ko marnay kay visual effects ko behtar banaya.
Clash Squad mein UAV istemal karnay kay minimap display ko behtar banaya.
Settings kay menu se zabardasti quit karna CS-Ranked mein mazeed support nahi kiya jata.
CS-Ranked kay liye reconnection time frame ko extend kiya gaya. Agar player galti se internet issues ya application crash ki waja se disconnect ho jatay hain tou wo aglay login mein reconnect ho jayein ge.
Lone Wolf mode mein FF knife ko weapon kay tor par shamil kiya.
Craftland
PVE Gameplay Design Template
Apna bilkul naya PVE gameplay template introduce karwa rahay hain!
"Agar ap kabhi kabhi mushkil competitive matches se thak jatay hain, tou Craftland mein humaray 2 naye tiyar kiye gaye PVE gameplay try karein. Mil kar fun karnay kay liye apnay doston ko bhi bula lein!"
Creative - Rush: Countdown khatam honay se pehlay aur zombies se lartay waqt, kam se kam 1 player har checkpoint se guzar kar finishing line par pohanchna chahiye.
Creative - Endurance: Zombies se lartay waqt, countdown khatam honay tak kam se kam 1 player ko zinda rehna chahiye.
Recommendation Feature
Main page ab map ki official recommendations aur recommendation ki reasons display karta hai.
"Nayi shamil ki gayein recommendations tab kay mutabik, ab ap map kay designs aur sath hi unn ki reasons ko browse kar sakte hain jin ko hum recommend kartay hain aur jin kay baray mein humein lagta hai kay wo check karnay kay qabil hain, jis mein maps kay enjoy kiye janay walay aspects aur unique areas bhi shamil hain."
Craftland kay main page par naya recommendation feature, jahan official map recommendations mil sakti hain.
Map Comments Feature
Map design kay baray mein apni raye ka izhar karein aur dusray players kay comments parhein.
"Yakeen nahi kay ye map ap kay bas mein hai ya nahi? Comment section se apko madad mil sakti hai! Iss patch mein, ap comment tags se ye maloom kar sakte hain kay dusray kisi khas map kay baray mein kya soochtay hain aur ap ne jo maps kheilay hein unn kay liye apnay comment tags ka intekhab kar sakte hain."
Comment tags match kay khatam honay par aur map details page par shamil kiye ja sakte hain.
Comment tags "Pros" aur "Cons" kay lehaz se categorize kiye gaye hain.
Map Editor Optimizations
HUD ko clean aur restructure kiya.
Objects aur objects kay stacks ko ab copy kiya ja sakta hai.
Object selection panel ko adjust kiya aur mazeed categories shamil ki gayein.
Movable items, jaisay vehicles, ko ab har round kay baad unn ki asal jagah par wapis rakhnay kay liye configure kiya ja sakta hai.
Shrinkable objects ab color ki tabdeeli ko support kartay hain.
Naye objects shamil kiye gaye.
FF Craftmate Optimizations
Mazeed functional istemal kay liye naye blocks shamil karein.
Behtar visualization kay liye visual resources kay liye selection feature ko shamil kiya gaya.
Kuch objects ab scripting editing ko support kartay hain.
Button control function ko shamil kartay hoye interface editing feature ko behtar banaya.